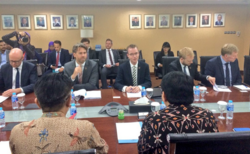 Denmark's Agricultural Minister Lunde Larsen and Denmark business representatives meet with Indonesia's Investment Board and Chamber of Commerce. Indonesia's Agriculture Minister says his government will allocate two million hectares of land for cattle and maize and sugarcane plantations under the investment deal signed with Denmark.
Antara | 12 April 2016
Indonesia, Denmark strengthen agriculture cooperation
Jakarta (ANTARA News) - The governments of Indonesia and Denmark have agreed to strengthen cooperation in the agriculture field through the signing of a memorandum of understanding (MoU) between the relevant ministers of the two countries here on Tuesday.

Signed by Indonesian Agriculture Minister Amran Sulaiman and Denmarks Food and Agriculture Minister Esben Lunde Larsen, the MoU contains the approval of agricultural investment, especially in the field of live cattle, corn for animal feed, and sugar.

"Therefore, Indonesia will provide two million hectares of land, of which, one million hectares has been set aside for live cattle, five hundred hectares for maize plantation, and five hundred hectares for sugarcane plantation," Sulaiman remarked after the signing of the MoU at the Ministry of Agriculture building here on Tuesday.

The minister said the land areas allocated for the plantation are in Southeast Sulawesi, Kalimantan, West Nusa Tenggara, and East Nusa Tenggara, among others.

As a reciprocal gesture, Denmark will provide assistance and technology transfer to Indonesia.
To this end, in the early stages, Denmarks food and agriculture minister has invited Sulaiman and his staff to visit the country.

"We will demonstrate the technologies being used in Denmark. We have high respect for the people of Indonesia, and we want to realize it by improving the quality of their agricultural produce, especially for the farmers," Minister Larsen stated.

Further, Sulaiman remarked that the MoU will run effectively in 2016 and is valid for the next five years.

Sulaiman noted that Denmark had invested some Rp2 trillion in Indonesia.

"I asked if the investment could be increased by twofold," said the Indonesian agriculture minister.
Minister Larsen is in Indonesia to conduct a series of working visits.

In addition to holding a meeting with Sulaiman, Larsen will also meet Environment and Forestry Minister Siti Nurbaya, Maritime Affairs and Fisheries Minister Susi Pujiastuti, and Jakarta Governor Basuki Tjahaja Purnama.(*)