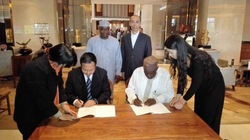 Governor Aminu Waziri Tambuwal witnessing the signing of agreement between Sokoto State Government and the Henan Province of China.
Pulse | 12 April 2016
Sokoto to benefit from Chinese president's 100 projects
Sokoto has become one of the beneficiaries of the 100 agricultural projects to be sited in developing countries which was announced by the Chinese President, Ji Xinping during the South-South Cooperation meeting held in September 2015.

It would involve the application of new technology for cultivation of crops such as corn, wheat, tomatoes and onions, it was gathered.

In a statement issued from China by Imam Imam, the spokesman to Governor Aminu Waziri Tambuwal, said the agreement also provides room for experts from Sokoto and Henan Province to carry out joint analysis and study of climatic conditions, soil moisture status, crop cultivation techniques and plant protection and quarantine.

"This will also promote lease investment and promotion of agricultural machinery between the two entities and the largest producer of food and agricultural machinery in China, Henan Province has a lot to offer Sokoto."

"They have some of the best agricultural machinery industries in the world. From simple ones to the complicated. Having gone round the factories and demonstration farms, we will choose the best one for our state. Signing this agreement today has given our decision to embrace mechanized agriculture a huge boost. We will quickly work to set up a joint working group to ensure its implementation," Tambuwal said.

While the state commissioner of agriculture, Umar Nagwari signed on behalf of Sokoto state government, King Xue, the General Manager of Henan Holding Industries signed on behalf of the Chinese.