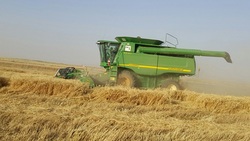 Al Rajhi International for Investment company's Al Kafa'ah farm in the Nile Region, Sudan.
Amwal Alghad | 9 April 2016
Saudi Al Rajhi Co. to pump $135mn in Egypt's Toshka until 2020
Saudi-based Al Rajhi International for Investment company (RAII) targets injecting 1.2 billion Egyptian pounds (US$135 million) to reclaim 75,000 feddans in Egypt's Toshka project until 2020, company's CEO announced Saturday.

Speaking to Amwal Al Ghad, Khaled bin Suleiman Al Melahi said that Al Rajhi works in Egypt since 2008 as it contracted to reclaim 100,000 feddans.
RAII has already reclaimed 25,000 feddans in Toshka with investments estimated at US$80 million, the official added.
Al Kafa'ah Project from Bnet adv on Vimeo.
About Egyptian investment environment, Al Melahi asserted that Egypt is an investment-attracting market but needs officials to pass transparent laws since those related to issuing lands whether by owning or usufruct systems are not clear.

Al Melahi emphasised on the importance of moving all obstacles that face investors in Egypt, clarifying that the government is exerting efforts to solve those problems since it had already removed 80 percent of barriers that face Saudi investors.
RAII invests in agribusiness and allied activities globally andestablished projects in Sudan, Egypt, Ukraine and Poland.