Vientiane Times| 7 April 2016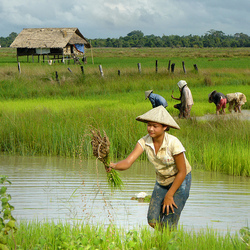 No more land concessions in Champassak
by Khonesavanh Latsaphao
No more state land will be released under concession for planting rice, coffee, rubber, cassava or maize in Champassak province as most areas suited to agriculture are already being utilised.
An official from the provincial Agriculture and Forestry Department, who asked not to be named, told Vientiane Times on Wednesday that there is not really any more agricultural land available for concessions to either local or foreign companies.
"Don't come looking for hectares of land for growing crops here because there is no more land for concessions remaining in Champassak right now," the official said.
He warned that companies who want to come to the province asking for a land concession from the provincial authorities might be disappointed with the answers they receive.
Champassak agricultural authorities advised that prospective investors should go to the province of Saravan to the north of Champassak if they need a concession because many parcels of land are empty in Toumlane and Ta-oy districts.
Nowadays, more than 100 companies both local and overseas have registered for land concessions on state land in Champassak. The companies have received concessions to plant crops for 30 years, with the option to continue for another 30 years if they wish.
Between 2006-2007, there were about 200 or 300 companies registered for land concessions in the province but now there are only around 100 companies because some had financial difficulties and have since collapsed.
Based on the provincial Agriculture and Forestry Department, as there is no more land, if companies want to invest in rice plantations, they will have to join with rice farming family groups.
One such company needs to grow rice organic on about 800 hectares of land in Khong district this wet season, and so far it has joined with farmers with their 200 hectares of land for growing rice crops.
Rice farming is particularly suited to the agricultural situation in Laos, due to the low disposable incomes of farmers and the high cost of chemical fertilisers, which in other countries has been shown to diminish soil quality over time.
Aside from providing farmers with better varieties of seed, the project will work to restore soil fertility levels through the use of leguminous crops in a crop rotation system.
Organic farming offers the possibility to establish more commercial farming operations in Laos, which benefits villagers and is at the same time sustainable in the longer term.
Organic produce is gaining increasing popularity with consumers all around the world as they feel they don't have to worry about the dangers of chemicals and know that what they are eating is entirely natural.