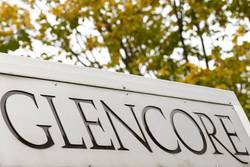 Glencore claims to have farming operations covering 270,000ha in Argentina, Australia, Kazakhstan, Russia and the Ukraine
Reuters | 5 April 2016
Glencore in talks to sell stake in agri business to CPPIB - WSJ
Miner and commodity trader Glencore Plc is in advanced talks to sell a stake in its agricultural business to Canada Pension Plan Investment Board (CPPIB), the Wall Street Journal reported, citing people familiar with the matter.
The CPPIB would take a stake of up to 40 percent, valuing the business at about $6 billion, the Journal reported on Tuesday, citing a source. (on.wsj.com/1RLHR1j)
Glencore and CPPIB declined to comment.
The Canadian pension fund likely won an auction Glencore has been running, and a deal could be announced as early as this week, the Journal reported.
The Swiss trading giant had said last month it would offload more assets to shore up its finances to cope with a commodities rout and to cut down its debt.
Glencore had earlier lifted its target for disposals by $1 billion to $4 billion-$5 billion and said it aimed to finalize the sale of a minority stake in its agriculture business in the second quarter.
In October, the company was in talks with a Saudi Arabian sovereign wealth fund and China's state-backed grain trader COFCO, along with Canadian pension funds, to sell a stake in its agricultural assets, according to sources familiar with the matter. (Reporting by Vishaka George in Bengaluru, Eric Onstad in London and Matt Scuffham in Toronto; Editing by Shounak Dasgupta)