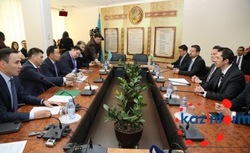 KazInform | 31 March 2016
Kazakh-Hungarian fund to attract $100 mln for agricultural projects
ASTANA. KAZINFORM - Kazakhstan and Hungary are to create a joint investment fund with an initial capitalization of $ 40 million.
According to Asylzhan Mamytbekov - Minister of Agriculture, the decision to establish the fund was taken during Prime Minister of Kazakhstan Karim Massimov's visit to Hungary.
"Establishment of the fund is an important event for the strengthening of the Kazakh-Hungarian relations, especially in the field of agriculture," said the Minister during a press conference.
The initial capitalization of the fund is amounted to $ 40 million ($20 million from each side). This fund is planned to attract additional $ 100 million from the local and foreign investors. The fund will invest in the country's agricultural sector and food industry operating in production, processing, storage and logistics.
In the future the national holding "KazAgro" plans to set up similar funds with China and the United Kingdom.
According to the Agriculture Ministry's press service, in 2015 the volume of investments in agriculture amounted to 167 billion tenge. The volume of investments in fixed assets of food industry increased by 28% and reached 55.9 billion tenge.