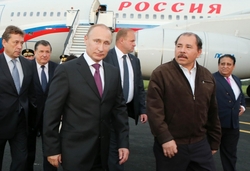 Russia's President Vladimir Putin and Nicaragua's President Daniel Ortega.
Sputnik | 30 March 2016
Tropical Nicaragua turns to Russia for agricultural investments

by Yuri Nikolayev
MONTEVIDEO (Sputnik) — Nicaragua is expecting Russian investors willing to inject money in the development of local land, Nicaraguan Deputy Foreign Minister Luis Alberto Molina said Wednesday.
"Out of 4.9 million hectares available in the country, only one million are cultivated. The rest is waiting for the Russians and other foreign investors who are willing to come to us," Molina said, addressing the Russia-Latin America Business and Media Forum.
The deputy foreign minister added that the prices for land were relatively low in the country and it was difficult to predict when they would rise.
The forum was organized by the Roscongress Foundation and the Bering-Bellingshausen Institute for the Americas, with support from the governments of Uruguay and Russia as well as Russia's agriculture watchdog, Rosselkhoznadzor.
Nicaraguan relations with Russia warmed considerably following the election of President Daniel Ortega, who has moderated his Marxist-Leninist views since the 1980's, when he led the country with the Soviet Union's support. Ortega now categorizes himself as a democratic socialist, and his country is a member of the left-wing Bolivarian Alliance along with Bolivia, Cuba, Venezuela and several other states.