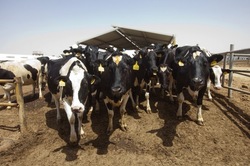 Al Rawabi in 2014 said it was adding another 2,000 cows to its 12,000-head herd at its dairy farm in Al Khawaneej. (Photo: Jaime Puebla / The National)
National | 23 March 2016
Dubai dairy Al Rawabi to expand with $100 million farm in Liwa region

by Sananda Sahoo
The Dubai-based dairy Al Raw­abi hopes to cream handsome profits from a planned US$100 million farm in Abu Dhabi's Liwa region.
The investment would boost its herd to more than 15,500 cows from the existing 12,500 cows. It currently produces 250,000 ­litres of milk a day from its Dubai farm alone.
It would spend Dh80 million this year to boost production with an automated plant in its existing Al Khawaneej dairy farm in Dubai. It is eyeing expansion in Yemen and Libya, along with Bahrain and Saudi Arabia.
It currently operates in Oman, Qatar, Ethiopia, Sudan, Kuwait and Iraq.
The milk producer may spend as much as $200m on acquisitions in the UAE this year. "The cost of commodities is rising, and we import everything, corn, alfalfa, wheat and cotton seed, but the good thing is that the number of consumers are also increasing," said Ahmed El Tigani Abdel Raheem Al Mansouri, the chief executive at Al Rawabi.
"Saudi Arabia removing subsidies is an advantage for us, because before they were sharing with us the same market and now they have to learn to survive without subsidies, and we have learnt to do that before as we don't have subsidies."
The company expects to buy land in Africa before the end of next year to grow alfalfa, which is used as a forage crop. It is also aiming to have a presence in all Arabian Gulf countries by 2020 and expand across Africa. Its strategy involves boosting its consumer base to 15,000 stores at the end of this year from the current 12,500 in the UAE, Oman and Qatar.
In the UAE, dairy product sales are expected to reach US$1.3 billion this year, up from $1.2bn last year, according to the research company Euromonitor International. Sales are expected to touch $1.6bn in 2019.
Cow's milk and yoghurt prices are regulated in the UAE, which limits the ability of producers to boost profitability
Almarai leads the UAE dairy market in terms of sales, followed by Abu Dhabi's Al Ain Dairy, the Dutch company Royal FrieslandCampina, Al Rawabi Dairy and Abu Dhabi's National Food Products, according to Euromonitor.
Al Rawabi intends to expand into new pro­duct lines such as cheese and ice-cream this year.
In Saudi Arabia, it plans to expand with non-dairy products such as fruit juices for diabetic patients and those with hypertension. It expects to grow 15 per cent in sales this year. The company declined to disclose sales and revenues for last year.
Last year, it invested Dh25 million in its cold storage infrastructure.
Al Rawabi Dairy is a part of Emirates Rawabi, whose investors include Arab Authority for Agricultural Investment and Development, Gulf Investment Corporation, Investment Corporation of Dubai and Emirates Industrial Bank. Emirates Rawabi was formed in 2000 with the merger of Al Rawabi Dairy and Emirates Modern Poultry. Al Rawabi Dairy started in 1989.