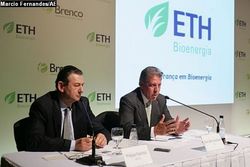 Brenco President Henri Philippe Reichstul (left). One of Brenco's initial investors, the private equity firm Tarpon, was also a founding investor of BrasilAgro, one of the leading farmland investors in Brazil.
Reuters | 15 March 2016
Senator's plea drags Brazil ethanol industry into graft scandal
SAO PAULO, March 15 (Reuters) - The testimony released on Tuesday of a prominent Brazilian senator is leading prosecutors in the widening corruption scandal beyond the graft-ridden oil and electric sector that have been their main focus and into the ethanol industry.
In a 250-page plea bargain of ruling Workers' Party Senator Delcidio do Amaral, who was arrested in November for obstructing a federal investigation, the lawmaker recounts how funds allegedly skimmed from state oil company Petrobras were channeled into a massive ethanol start-up.
The testimony says former chief executive of Petrobras, Phillipe Reichstul helped direct funds from Petrobras operations into the ethanol start-up group Brenco, which was created in 2006 and had investors that included Vinod Khosla, Steve Case and Tarpon Investments.
Brenco, facing a potential bankruptcy, was bought up in 2010 by the cane industry division of Odebrecht, Latin Americas' largest engineering conglomerate that is at the center of the massive graft scandal involving bribes and political kickbacks funded from overpriced contracts with Petroleo Brasileiro SA .
In addition to Brenco, Amaral's extensive testimony also mentions the powerful Bumlai family 111 times.
Jose Carlos Bumlai, the patriarch of the family and close confidant to former President Luiz Inacio Lula da Silva, controls the Sao Fernando ethanol mill now in bankruptcy.
Federal police arrested Bumlai in November over his alleged involvement in the far-reaching money laundering and graft ring. (Reporting by Reese Ewing; Editing by Sandra Maler)