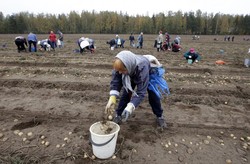 Residents gather potatoes at a field in a state-owned farm near the village of Krynitsa, some 50 km (31 miles) northwest of Minsk, Belarus. (Photo: Reuters)
BelTA | 15 March 2016
Chinese company plans to implement investment project in Gomel Oblast Economy
GOMEL – China Xinjiang Bingtuan Construction & Engineering (Group) Co. Ltd., which is one of the biggest companies in China, has plans to implement a joint investment project in the agricultural sector of Gomel Oblast, BelTA has learned.
The talks were held between Gomel Oblast Governor Vladimir Dvornik and managers of the Chinese company. The parties discussed the setting up of so-called research parks at the basis of several agricultural companies. With the use of the latest technological solutions these research parks will develop highly-efficient cultivation technologies.
At the first stage the cooperation efforts will be focused on the cultivation of maize hybrids and their parent forms. The basic agricultural companies that will take part in the project may become the state owned farm Zarya and the experimental base Krinichnaya, Mozyr District. The representatives of the Chinese company visited the abovementioned farms on 15 March.
It is expected that the project will be financed by the Chinese side. The Agriculture and Food Committee of the Gomel Oblast Executive Committee is set to work out a business plan to sign the agreement. The first results will be achieved 18 months after the signing of the document.
Founded in 1952, China Xinjiang Bingtuan Construction & Engineering (Group) Co. Ltd. is the country's biggest state-run company headquartered in Urumqi.
The company has 13 subsidiaries. The company has so far implemented more than 40 international projects in Pakistan, Mongolia, Algeria, Angola, Kyrgyzstan, Tajikistan, Russia, and also the countries of South America.