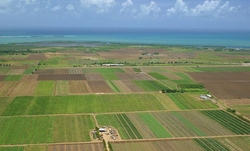 Black Sea Group | May 29 , 2015

zf.ro

An Indian dynasty betting on Romanian agriculture: Rivals of Mittal family took 2,500 ha of agricultural land from a farmer in Teleorman.
Gupta family, one of the most powerful business dynasties in India alongside that of Lakshmi Mittal, bought two farms with a total of 2,500 hectares of land in Teleorman.
The farms were family owned by one of the most vocal farmers in Romania.
"Much remains to 200-300 hectares of arable land to another company. Not permanently out of agriculture, "said Victor Chivu.
The Indian's Company operates locally through Transdanube Industries, the entity through which previously announced plans to build a steel plant in Calarasi. They are known internationally as African Industries Group, with a presence in Nigeria.
The transaction was made through the vehicle Cypriot Indians Ysia Limited, managed by Italian businessman Tommaso Serrano. He is also the CEO of Transdanube Industries, core business in Romania Gupta family.