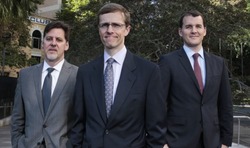 Jeff Nuss, left, John Goodreds, and Dan Masters are in Australia to encourage investment in timber and agriculture. Jessica Hromas
Australian Financial Review | Mar 9 2016
TIAA partners give super funds $100b agricultural insight
by Matthew Cranston
The $US866 billion ($1.2 trillion) financial services giant TIAA expects there will be at least $US100 billion invested in timberland operations and agriculture across the world in the next 10 to 20 years and has come to Australia to tell Australian super funds how to participate.
TIAA global asset management head of agribusiness John Goodreds said it was natural for TIAA to look at long-term investment horizons and that timber and agricultural land and management were "conducive" to such long-term horizons.
"These areas are also driven by real fundamentals – they are goods the world needs, not just the latest trends," Mr Goodreds said.
He also said they offered exposure to beta and alpha – terms used to describe the consistency of an asset's returns in response to swings in the market.
"They also offer inflation protection which a lot of institutional investors are very thoughtful about today."
TIAA's two partners in agribusiness and timber, AGR Partners and Greenwood Resources, are also in Australia helping explain the importance of the emerging asset class.
Identifying investments
Greenwood Resources president and chief executive Jeff Nuss said he had been working hard to identify ways of bringing such an investment to institutional investors.
The TIAA-backed Global Timber Resources Fund which Greenwood Resources runs, has raised its required capital of $US670 million.
"We anticipate there is probably another $US100 billion in investment capital needed to come into the space and meet the future demand for wood."
AGR Partners managing director Dan Masters who oversees about $US100 million in agricultural farm management business investments a year, said the key to good farm investment was the operator.
"We are here educating the super fund market on how we go about investing into this space. There are some nuances about investing in this and providing capital to family businesses."
"The best food and agribusinesses are family owned and they are not looking to sell majority control."
"The way we are accessing that market is to provide minority equity and partner with them and align interests."
He said in Australia the crucial way to invest with successful farm operators was to provide more than just cheap, patient capital.
"All but one company we have invested in has not needed our capital," Mr Masters said.
"It was about the value add we bring to that company that can be bringing acquisition opportunities, executive talent, growth ideas and strategic guidance as and when asked for," he said.