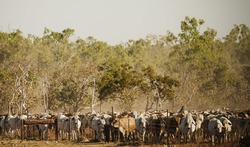 Financial Review | 7 Mar 2016
We want our super fund to invest in S Kidman & Co: industry and retail members
by Matthew Cranston
Pressure is mounting on Australia's superannuation funds to invest in agricultural land as investors protest about the industry's decision not to try and buy Australia's largest landholder S Kidman & Co.
The managing director of crowdfunding group DomaCom's Arthur Naoumidis said two-thirds of the people who have pledged money for his campaign to buy the 11-million-hectare S Kidman & Co were not self-managed super fund owners but members of either industry or retail super funds.
"This is interesting because the industry funds have told me their members do not care [about] anything other than the amount they retire with and because of this they see no reason why they should invest in Kidman. Our Kidman campaign shows this is clearly not true," Mr Naoumidis said.
"One of the reasons that has been given to me as to why industry funds would not participate in our crowdfunding campaign, is that they feel by doing so it would validate the decision of the 4000 self-directed investors who have participated in [the] campaign."
Dozens of pledged investors have told The Australian Financial Review they want their super fund to invest in agriculture.
Look harder into farming
Bruce Cooke, an electrician who has an industry super fund and is pledged to buy Kidman, said he thought his super fund should be looking harder at agriculture.
"They tell me about the retail property they bought but never about a farm," Mr Cooke said. "Kidman is a viable operation; they are not in debt and from what I read the Kidman business would pay its way.
"Kidman is giving money back to its owners – it can't be a bad thing – it probably won't be giving 10 per cent. [So] all the accounts won't be interested because it doesn't give 10 per cent."
Several offshore pension funds, including those from Canada, Denmark, the Netherlands, Sweden and the United States, have all made significant agricultural investments in Australia that would easily exceed $1 billion.
Grace Singleton, a customer service provider who is also with an industry fund, said she thought super funds should be competing with the Chinese interests that are looking to buy the S Kidman & Co cattle station business.
"All the superannuation funds should be interested in these things," she said, "I think the Chinese are paying well over the price, but I still think the superannuation funds should be competing."
Emerging investment
Association of Superannuation Funds of Australia chief executive Pauline Vamos said superannuation funds' interest in agricultural assets was growing.
"Agricultural investment is an emerging asset class and, like any emerging asset class, superannuation trustees are reviewing their potential role in their overall investment strategies," Ms Vamos said.
"As long-term investors, trustees need to look at liquidity, risk, the level of returns and costs. As an emerging class, not all of these areas are fully transparent or even possible to know.
"There is no doubt that agriculture could be an exciting opportunity and that it fits the bill both in terms of enhancing trade, which is good for the economy, and doing public good," she said.
Deputy Prime Minister Barnaby Joyce has long argued for super funds to lift their game when it comes to agricultural investments.
At the latest Australian Bureau of Agricultural and Resource Economics and Sciences conference, Mr Joyce drew on a study reported by the Financial Review last year that showed super funds had only 0.3 per cent of their wealth invested in agriculture.
Some super funds, however, have shown the acumen to invest in agriculture.
The Sustainable Agriculture Fund, which made a $4.7 million profit last year, is backed by Australian Catholic Superannuation and Retirement Fund, AustralianSuper and Auscoal Super.
Buyers say 'get ready'
Gunn Agri Partners – the agricultural land manger whose vehicle Cunningham Cattle has snapped up about $50 million worth of cattle stations in Australia this year – expects the asset class will evolve.
Gunn Agri's executive chairman Bill Gunn said there was strong interest in Australian agriculture.
"Australian institutional investors have periodically been into agriculture but have retreated and then come back. It wasn't all that long ago that the largest cattle operation in Australia was AMP's Stanbroke.
Mr Gunn said that when and if institutional investors are offered appropriate opportunities then and only then would such investors re-enter.
"I don't think it is at all out of the question."
Gunn Agri is targeting total acquisitions of up to $300 million. Domestic super funds investment is a "delicate subject".