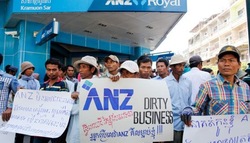 Villagers from Kampong Speu province protest at a Phnom Penh ANZ branch in 2014 after they lost land to a sugarcane plantation that had been financed by ANZ Royal Bank. (Photo: Pha Lina)
Phnom Penh Post | 16 February 2016
ANZ still owes villagers over sugar loan: Oxfam
by Charles Rollet

Australian banking giant ANZ has come under fire for its response to a scandal over its financing of a sugar plantation previously linked to forced evictions and child labour in Kampong Speu province.
Titled Still Banking on Land Grabs, Oxfam's Australia branch released a report yesterday slamming four large Australian banks for their ties to land grabs in developing countries.
The report made a prominent example out of ANZ's partial financing of Phnom Penh Sugar, which had been denounced for a litany of human rights abuses in years past.
While ANZ's involvement in PPS through its Cambodia affiliate ANZ Royal has been public since early 2014, Oxfam criticised ANZ for washing its hands of the scandal after PPS "suddenly" paid back its loan in July of that year.
"While ANZ has emphasised its willingness to speak to communities, over the last two years this hasn't resulted in ANZ taking any meaningful action to improve the lives of people living in affected communities who have lost their land," the report says.
Oxfam added that no systematic compensation process had been created for those affected, while ANZ has refused demands to funnel the profit it made off the loan back to the community.
Villagers displaced by PPS, which is owned by ruling party Senator Ly Yong Phat, in 2014 filed a complaint against ANZ that is still being considered by the Organisation for Economic Cooperation and Development, while the European Commission announced resettlement programs for those displaced by sugar plantations later that year.
While an ANZ spokesman declined to comment on the specifics of Oxfam's complaints yesterday, he wrote in an email that ANZ had not simply abandoned the case.
"Since Phnom Penh Sugar paid out its loan in July 2014, we have maintained contact with the Cambodian government and [European Union] officials as well as offering support to the Cambodian Government Committee examining broader social displacement issues arising from land use changes," the spokesman wrote, adding that ANZ was updating its human rights standards in 2016.
However, Eang Vuthy, executive director of rights group Equitable Cambodia, said ANZ's response was lacking in specifics and that the affected villagers still had not found justice.
"ANZ has to really respond to this situation or their name will keep being repeated in the media to make them accountable," he said.