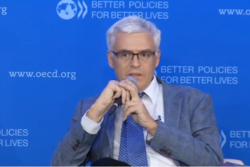 « On ne prend pas la terre des villageois. On nous la propose ou on la demande », s'est défendu Pierre Bois d'Enghien, représentant de la société Socfin (
capture d'écran
)
La France Agricole 14.12.15
Les grandes plantations peuvent contribuer au développement agricole durable
Lors du
colloque de Farm et Pluriagri à Paris, le 14 décembre,
des témoignages ont montré l'intérêt pour l'Afrique de disposer d'exploitations de taille importante.
« On ne prend pas la terre des villageois. On nous la propose ou on la demande », s'est défendu Pierre Bois d'Enghien, représentant de la société Socfin, lors du colloque de la Fondation pour l'agriculture et la ruralité dans le monde (Farm) et Pluriagri à Paris, le 14 décembre 2015.
Son entreprise détient 200 000 ha en concessions dans huit pays d'Afrique et deux pays d'Asie pour la production de palmiers à huile et de caoutchouc. 55 000 personnes travaillent sur les concessions (d'une moyenne de 10 000 ha). « Nous aidons ces personnes à sortir de la pauvreté », assure Pierre Bois d'Enghien, qui estime que le contrat est « gagnant-gagnant » entre Socfin et les villageois. « Nous entretenons des relations de bon voisinage et nous garantissons l'approvisionnement de nos infrastructures. De l'autre côté, les travailleurs s'assurent un revenu mensuel avec des plantes pérennes et durables ».
20 % de l'approvisionnement de Socfin se fait avec la production des petits planteurs mais la priorité du groupe est la rénovation de plantation déjà existantes. « En République démocratique du Congo, 300 000 ha de palmiers à huile sont abandonnés », indique Pierre Bois d'Enghien.
46 % de terres inexploitées en Afrique
Pour Theo de Jagger, président de la confédération des unions agricoles d'Afrique australe (SACAU) et de l'organisation panafricaine des agriculteurs (PAFO), « lorsqu'on dit qu'il y a 46 % de terres inexploitées en Afrique, c'est faux. Il n'y a pas de terres sans individus qui y vivent. Pour s'implanter correctement, il faut épouser la communauté en place. En montrant les avantages de l'implantation d'une grosse exploitation sur ces terres, on s'assure un avenir plus paisible car aucun politique ne vous assure si les choses tournent mal », poursuit-il. Celui qui considère que l'Afrique est « The place to be » en matière d'agriculture, estime aussi que l'Europe surestime les capacités des petites exploitations, qu'il considère, pour sa part, comme « le chemin de la pauvreté ».
« Nous devons générer de la richesse autour de l'agriculture et cela passe par la chaîne de valeur. Or, en mettant fin à certaines concessions ou en mettant dehors certains planteurs, on a détruit la chaîne de valeurs qui ne peut pas s'appuyer uniquement sur les petits producteurs ».
Pauline Bourdois