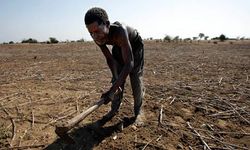 Photo: Gianluigi Guercia/AFP/Getty Images
Nyasa Times | 12 January 2016
Malawi: Chiefs clash with subjects over land sale to Indian investor
By Martin Chiwanda
Communities in the area of Chief Malemia in Nsanje have turned down a proposal by their traditional leaders to sell their customary land to an Indian investor, Nyasa Limited.
The communities have faulted Senior Chief Malemia among other traditional leaders for secretly masterminding the selling of their land to the company which intends to open Mango and Banana plantations without their knowledge.
Concerned people who spoke to Malawi News Agency said the traditional leaders are abusing their powers as customary land cannot be sold without consulting their subjects.
"We were surprised to hear that there is an Indian investor who wants to establish Mango and Banana plantations on our customary land. We hear that the investor has been conniving with our traditional leaders including Senior Chief Malemia to buy 500 to 1000 hectares of our land for the project.
"Imagine, they started demarcating the land earmarked for selling without our knowledge. Our chiefs jumped the gun because we were supposed to be consulted from the word go other than seeing our land being demarcated," said the source (name shielded).
According to the people, letting the land go would be disastrous as they rely on the very land for agricultural activities.
"We cannot afford to lose our land since it is a source of food for most people in Nsanje," concluded the one of the concerned people.
Member of Parliament for the area Dr. Joseph Chidanti said he is equally concerned that the process regarding the selling of the land started at high level at the expense of the local people who own the land.
"As stipulated by the country's Customary Land Laws, the owners of land are the ones that make final decision as far as the selling of the land is concerned.
"I personally met the concerned people on the matter and what transpired is that the move has been rejected. This means that the land will not be sold as it is their source of livelihood," said Dr Chidanti.
Senior Chief Malemia declined to comment on the matter claiming that there is somebody who is distorting the issue whom he did not disclose.