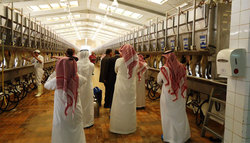 Alamarai's dairy farm in Saudi Arabia.
Reuters | 10 January 2016
Saudi dairy company Almarai buys land in California to grow fodder
Saudi Arabia's Almarai Co, the largest dairy company in the Gulf, has spent $31.8 million to buy land in California to supply its business with alfalfa hay, it said on Sunday.
The 1,790 acres of land, acquired through Almarai's Fondomonte California LLC operation and located in Blythe in the southeast corner of the U.S. state, was financed through its own resources, the company said in a statement to the Saudi bourse.
Almarai, which already owns land in Arizona, said the purchase was part of efforts to secure high-quality hay from outside Saudi Arabia, in line with Saudi government policy.
Saudi Arabia is phasing out the growing of crops and fodder because of the strain such cultivation places on scarce water resources in the desert kingdom. The cultivation of green fodder will end in the next three years, a December cabinet statement said.
Almarai's costs will increase by 200 million riyals ($53 million) this year because of the ban on green fodder, with the amount rising each year until the company imports all its green fodder by 2019, it said in a separate bourse filing on Sunday.
The purchase comes at a time when California is suffering its own water shortages. The state is in its fourth year of drought conditions, forcing residents and businesses to curtail water usage.
California's drought is expected to have cost the state's economy an estimated $2.74 billion last year, with farmers having to fallow 542,000 acres of land because of dry conditions and difficulty obtaining water for irrigation, according to research from the University of California, Davis.