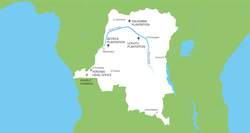 Feronia announces new financing from a syndicate of European development funds, backed by the governments of Germany, Netherlands, Belgium, Switzerland and Sweden.
Feronia | 22 December 2015
Feronia secures $49M term facility for palm oil operations
TORONTO, ONTARIO, CANADA – December 22, 2015: Feronia Inc. ("Feronia" or the "Company") is pleased to announce that its palm oil subsidiary, Plantations et Huileries du Congo SA ("PHC"), has entered into a secured term facility agreement (the "Facility") for up to $49 million with a syndicate of European lenders consisting of four Development Finance Institutions ("DFIs"). All amounts in this press release are expressed in US dollars unless otherwise indicated.
The financing allows the DFIs to contribute to the development of poor rural areas through supporting the private sector; an important engine for employment and income in developing nations such as the DRC.
DEG – Deutsche Investitions- und Entwicklungsgesellschaft mbH ("DEG"), lead arranger and agent for the syndicate, has agreed to provide $16.5 million of the Facility. Nederlandse Financierings-Maatschappij voor Ontwikkelingslanden N.V. ("FMO"), the Dutch development bank, has agreed to provide $16.5 million, the Belgian Investment Company for Developing Countries ("BIO"), the Belgium Government's DFI, has agreed to provide $11 million and the Emerging Africa Infrastructure Fund ("EAIF"), a facility of the Private Infrastructure Development Group, has agreed to provide $5 million of the Facility (collectively the "Lenders").
The purpose of the Facility is to finance investment into equipment, replanting, fertiliser and environmental and social governance ("ESG") expenditures required as part of the rehabilitation of PHC's three palm oil plantations in the Democratic Republic of the Congo (the "DRC").
The initial and subsequent advances pursuant to the Facility are subject to satisfying various initial and ongoing conditions precedent. The amounts advanced under the Facility will be repaid semi-annually over a six year period commencing September 2019. The Facility is subject to covenants, pledges and charges typical of a loan facility of this nature and shall be secured by way of a first ranking security against the assets of PHC and by way of a pledge of the shares of PHC by a Belgian subsidiary of Feronia. The Company expects that the first advance under the Facility will occur in Q1 2016.
Feronia selected the Lenders following a tender process which saw considerable interest from a variety of debt providers and DFIs. Approval of the loan by the Lenders followed a comprehensive due diligence process and the further development and extension of the Company's Environmental and Social Management ("ESM"). The ESM is the Company's aims for implementing environmental and social best practice and improving social infrastructure across its operations and was jointly developed with CDC Group plc, one of Feronia's key shareholders.
Ravi Sood, Chairman of Feronia commented: "This is a landmark transaction for Feronia, PHC and the entire agriculture industry in the DRC. In rebuilding a 104-year old business, we are playing a key role in driving sustainable growth in the communities in which we operate and providing an essential product across the DRC. The Lenders' involvement is a huge positive for all stakeholders and highlights the promise of agriculture to create sustainable employment and alleviate poverty in the DRC.
"The due diligence process for this facility has been rigorous and the standards required by the Lenders with regards to sustainability, transparency and governance are of the highest level. We are very proud that we have signed this facility agreement with a discerning and committed syndicate of international lenders and will benefit from the knowledge and expertise their involvement will bring.
"Through the provision of this facility, the Lenders are directly helping to secure the future of this business in a sustainable way and, with it, the livelihoods of over 3,800 employees and tens of thousands of people who are directly dependent on our company. We are committed to working with our new partners to deliver on all of our objectives and to becoming a model for transparency and sustainability both in the DRC and in the palm oil sector."
For further information please contact:
Feronia Inc.
Ravi Sood, Executive Chairman, Feronia Inc.
1 (647) 987-7663
Paul Dulieu, Investor Relations Manager, Feronia Inc.
44 (0)7554 521421
BIO
Communication Department
Belgian Investment Company for Developing Countries SA/NV – BIO
32 (0)2 778 9963
FMO
Paul Hartogsveld, Senior Marketing & Communications, FMO
31 (0)70 314 9928
EAIF
Karen Triggs, Head of Communications, Private Infrastructure Development Group
00 44 7515 407262
About Feronia Inc.
• Feronia is an agribusiness operating in the Democratic Republic of the Congo (DRC).
• At the heart of Feronia lies a long established palm oil business, Plantations et Huileries du Congo (PHC), which has three remotely located plantations; Lokutu, Yaligimba and Boteka. We also have an arable farming operation which grows and processes rice.
• When Feronia acquired its palm oil business from Unilever in 2009, it had suffered from years of underinvestment and considerable disruption caused by conflict in the DRC. Our initial focus has been on rebuilding the business and resuming production to secure its future and the livelihoods of the 3,800+ people we directly employ.
• Feronia's plantations produce crude palm oil (CPO) and palm kernel oil (PKO). CPO is part of the staple and traditional diet of the Congolese and, with our products sold locally in the DRC, we are well placed to help decrease reliance on imports and increase food security and quality.
• Feronia prides itself on being the guardian of our 104 year-old palm oil business and its employees, communities, and environment. We have a long term commitment to improve the living and working environment of our employees and their communities and are committed to sustainable agriculture, environmental protection and community inclusion. Feronia has in place Environmental and Social Management which is focused on implementing environmental and social best practice and improving social infrastructure.
• Feronia is working towards certification by the Roundtable for Sustainable Palm Oil (RSPO) and is implementing IFC/World Bank standards for environmental and social sustainability. Our oil palm replanting programme is brownfield in nature – replacing old palms with new – and it has no reliance on deforestation.
• For more information please see www.feronia.com
About DEG
DEG, a subsidiary of KfW, finances investments of private companies in developing and emerging market countries. As one of Europe's largest development finance institutions, it promotes private sector development to contribute to sustainable economic growth and improved living conditions.
About the Belgian Investment Company for Developing Countries (BIO)
BIO (www.bio-invest.be) is a private company whose capital is held by the Belgian state. The mission of BIO is to support a strong private sector in developing and/or emerging countries, to enable them to gain access to growth and sustainable development. BIO invests directly and indirectly in private sector projects and as such makes a structural contribution to the socio-economic growth of those host countries. Its mandate requires strict criteria in terms of geographical targets, financing tools and, above all, impact on development.
About FMO
FMO is the Dutch development bank. FMO has invested in the private sector in developing countries and emerging markets for more than 45 years. Our mission is to empower entrepreneurs to build a better world. We invest in sectors where we believe our contribution can have the highest long-term impact: financial institutions, energy and agribusiness. Alongside partners, we invest in the infrastructure, manufacturing and services sectors. With an investment portfolio of EUR 8 billion spanning over 85 countries, FMO is one of the larger bilateral private sector development banks globally. www.fmo.nl
About EAIF
The Emerging Africa Infrastructure Fund (EAIF) lends to private sector companies building, expanding or improving infrastructure in sub-Saharan Africa. The Fund's objective is to facilitate economic development that directly and indirectly contributes to the alleviation of poverty. EAIF is financed by the governments of the UK, The Netherlands, Sweden and Switzerland and by commercial banks. More on www.eaif.com EAIF is a Facility of the Private Infrastructure Development Group. More on www.pidg.org