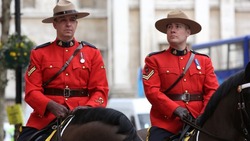 The New Zealand dairy farms were bought by Ramsay Dairy Farm Limited, wholly owned by Canada's Public Sector Pension Investment (PSP) Board. PSPI is one of Canada's largest pension investment managers, with about C$112 billion of assets. It invests pension funds for Canada's public service as well as its forces and the Royal Canadian Mounted Police. (Photo: Tim P Whitby/Getty Images)
Stuff | 5 January 2016

Canadian Mounties buy Oxford dairy farms
The Canadian Mounties have taken another stake in dairy farms near Oxford, North Canterbury.
The sale of two dairy farms to a Canadian government pension fund has been approved by the Overseas Investment Office (OIO).
OIO approval, granted in November, was required for the purchase of the North Canterbury farms from New Zealand-owned companies Oxford Pastures Limited and Farm Partners Limited. The nearby properties included a 322-hectare farm and 34ha block.
The sale price was withheld under the Official Information Act.
The farms were bought by Ramsay Dairy Farm Limited, wholly owned by Canada's Public Sector Pension Investment (PSP) Board. PSPI is one of Canada's largest pension investment managers, with about C$112 billion (NZ$167.3 billion) of assets. It invests pension funds for Canada's public service as well as its forces and the Royal Canadian Mounted Police.
The land run as a dairy farm will continue to be used for dairy farming and milk production with its new owners employing rural investment managers and dairy consultants FarmRight to manage the land.
In order to meet OIO criteria that the sale would benefit New Zealand, the new owners plan to increase the size of the milking platform on the farm, largely through investing in irrigation infrastructure and increasing its herd size. Other investments will include "aggressive" regrassing, increasing effluent storage and improving stock tracks so the farm can carry a higher stocking rate.
PSP met the benefit test with its pledge to create jobs, lift production and boost export receipts and its previous investments in New Zealand was taken into account. The gift of a lakebed has been offered to the Crown.
Ad Feedback
The sale follows the OIO approval in September of another 280ha dairy farm in Oxford for an undisclosed sum to the Canadian company of Emerald Dairy Farm Ltd also owned by PSP. The land previously held by Beauhill Trustee Limited had to meet OIO criteria before it could be sold. FarmRight were hired to manage the dairy property.
In 2014, the OIO approved PSP buying 18 commercial and retail properties for about $1 billion and it increased its holding in Kaingaroa Timberlands.