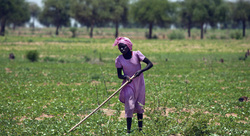 Egypt Independent | 11 December 2015
Egypt, Sudan agree to remove obstacles facing development projects
Egypt and Sudan agreed to remove all obstacles facing the Egyptian-Sudanese Integration Company, which will contribute to the implementation of the Blue Nile State's Ad-Damazin project on an area of ​​about 100,000 acres, said Egypt's Ambassador to Sudan Ossama Shaltout.
The area will be planted within three years using modern irrigation and farming methods, he added.
Shaltout said another strategic project for the production of meat is being developed in the Sudanese White Nile state as one of the integrated projects agreed on between Egypt and Sudan on an area of ​​30,000 acres.
The project covers all stages of production to achieve added value, not only in the stages of nurture and fattening but for the production of processed meats and dairy products, said the ambassador.
Egypt imports cattle annually from Sudan at a price of about US$200 million and hopes to double the amount, Shaltout said.
The White Nile state cattle project is supposed to cover the food security needs of both countries, although Sudan still suffers from unilateral economic sanctions imposed on it by the US, hindering investment in Sudan due to not being able to carry out bank transfers, said Shaltout. Egyptian investments in Sudan are equal to $11 billion.
Egypt ranks fourth among foreign investors in Sudan, he pointed out.
Trade through land ports between the two countries has increased by $10 million per month, due to the opening of new ports, the ambassador mentioned.
Argeen port is expected to be opened in the first quarter of 2016, he said.
The Argeen crossing will link Alexandria to Cape Town, in South Africa, and will contribute significantly to the increase of trade and investment in Africa, due to the absence of water obstacles along the road, Shaltout mentioned.
Egypt and Sudan have recently held meetings in Khartoum to overcome obstacles facing trade and the movement of citizens through the Qastal-Ashkeet border crossing, Shaltout said.
Five large Egyptian companies specializing in the pharmaceutical industry are operating in Sudan with investments exceeding $120 million, said Shaltout.
President Abdel al-Fattah al-Sisi is interested in developing relations with Sudan specifically. He has met with the Sudanese president more than ten times since he came to power, according to Shaltout.
About four million Sudanese nationals live in Egypt, he said, pointing out that there is no discrimination against Sudanese people in Egypt as has been circulated in the media recently. Such rumors aim to strain relations between the two countries, he stressed.
Egypt will adopt Sudanese issues and files in the UN after it won a non-permanent seat at the Security Council, Shaltout said.

------
Mada Masr | 11 August 2015
A series of bilateral meetings has resulted in an agreement between Egypt and Sudan to pursue agricultural and water integration projects, in yet another sign of a friendlier state of relations between the two often testy neighbors.
Among the projects is a plan for Egypt to cultivate around 92,000 feddans of land in the Damazin area of the Blue Nile State. The Egyptian-Sudanese Integration Company would be contracted for the job. The company, which was established more than 40 years ago, currently grows sunflowers and other crops on around 20,000 feddan in the same area.
The project will involve clearing acacia trees off 70,000 feddan of land, as well as expanding into livestock and fish production, a Cabinet statement said.
Relations between Sudan and Egypt have been frosty over the past few years, but they've recently begun to thaw thanks to a series of conciliatory diplomatic gestures. In October 2014, President Abdel Fattah al-Sisi and Sudanese President Omar al-Bashir upgraded representation in a joint committee aimed at strengthening bilateral ties. On Monday, a group of 101 Egyptian fisherman returned to Egypt after being detained since April for allegedly trespassing into Sudanese waters. In return, Sisi freed 44 Sudanese citizens imprisoned for illegaly crossing the border.
The same cannot be said, however, for relations between Khartoum and armed rebels in the border zones with South Sudan. The Blue Nile State where the proposed Egyptian project is to take place is one of the worst-affected areas.
The state has been the site of an ongoing conflict since 2011, when a fierce confrontation began between the ruling regime in Khartoum and the northern branch of the Sudan People's Liberation Movement (SPLM), which won independence for South Sudan after a 2005 peace deal.
As of October 2014, the United Nations estimated that about 2 million people in Blue Nile and the nearby state of South Kordofan have been affected by the conflict, with more than 540,000 people internally displaced and an additional 250,000 fleeing to South Sudan and Ethiopia. Another 24,500 people were reportedly displaced this June.
Power-sharing and the distribution of wealth between southern states and the capital are at the root of the conflict. The SPLM contends that natural wealth from the south is still enriching Khartoum rather than the local population.
Meanwhile, with most of its oil revenue lost to South Sudan, Khartoum has been seeking other sources of funding, including agricultural investment from Arab countries.
Although Egypt's plans to cultivate crops in Sudan date back four decades, Egyptian investment projects in foreign agriculture run counter to a more recent trend. In April 2014, former Agriculture Minister Ayman Abu Hadid said Egypt planned to lease around 60,000 feddans of agricultural land to Arab investors as a way of bringing foreign funds into the country.