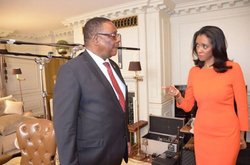 President Mutharika with BBC's journalist Badawi after 'Hard Talk'. The President begins talking about land issues at 18 mins 54 secs into the
interview
.
Nyasa Times | 14 December 2015
Malawi investigates land grab report by multinationals
President Peter Mutharika ordered investigations into reports that big name multinationals are grabbing land from poor smallholder farmers to diversify from tobacco farming.

Mutharika ordered investigations after reports issued by land rights organisations such as ActionAid Malawi and LandNet Malawi earlier this year indicated that Malawi had entered into an agreement through the G8 New Alliance Initiative to release 200 000 hectares of large-scale commercial agriculture land by 2015.
The organisations have said the initiative, which Malawi signed up for, was against the backdrop of proven research that 11 percent of the country's population has no access to land for subsistence farming.
However, Mutharika in an interview with British Broadcasting Corporation (BBC) Hardtalk programme, dismissed such reports.
The Malawi leader questioned the credibility of the LandNet Malawi organisation which BBC journalist Zeinab Badawi quoted.
"Grabbed by multinationals? Who is grabbing? Well, I just don't think that's true. Some of these civil society organisations [CSOs] should be questioned on how they analyse issues," said Mutharika.
" There is a law on how land is going to be alienated. No foreigner can acquire land except in cases where they are going to industrialise for a certain amount of time," he added.
Badawi cited Nyasa Times article which indicated for 35 years now, more than 400 subsistence farmers at Chisita in Malawi's central region have been traversing the country's courts, nongovernmental organisations and the offices of the Ombudsman in a bid to reclaim 600 hectares of land, which Illovo Malawi occupied in 1979.
But Mutharika dismissed the report and said that Peter Kaunda, who the Nyasa Times story quoted as having his land grabbed, probably did not exist.
Mutharika, however, said his government will investigate the matter.
"If he does exists this so called Peter Kaunda, maybe he does, if he does we will investigate. Its first time I am hearing this," said Mutharika.
There are two land bills which were due to be tabled in Parliament during the just-ended meeting, but have been pushed to the next sitting.