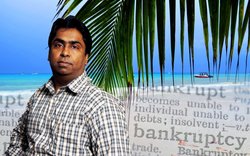 Chinnakannan Sivasankaran, "one of the world's largest farmland holders", allegedly used bankruptcy for fun and profit.
Daily Beast | 11 October 2015
A $200 million dollar shell game in Seychelles

One of the world's richer men allegedly used bankruptcy for fun and profit.
An Indian-born oligarch who purchased M.C. Hammer's former mansion in California may have followed the previous owner into decadence and bankruptcy, but, unlike the bejeweled and balloon-panted rapper, this flamboyant figure appears to have benefited from the relaxed laws of an island nation to keep his assets out of the hands of his creditors.
Once the owner of an estimated $3 billion business empire, largely founded on India's telecom industry, Chinnakannan Sivasankaran, or Siva as his friends call him, filed for bankruptcy in August 2014 in Seychelles, following his loss, in British High Court, of a civil case brought against him by an erstwhile partner, a subsidiary of the Bahrain Telecommunications Company, or Batelco.
It was decided that Siva and his Bermuda-registered company Siva Limited should pay the Gulf-based company $212 million by June 26, 2014.
However, even before the trial began, the oligarch used his Seychellois citizenship to arrange a swift legal split from his wife, to whom he then transferred at least $95 million in assets—39 plots of land, one island and numerous corporate holdings registered in Seychelles and the British Virgin Islands, including those that owned even more real estate—as part of the divorce settlement. (That transfer, in fact, took place on May 14, 2014, a day before Siva testified in court on the Batelco case.)
Not that bankruptcy would have necessarily hurt Batelco's chances of recovering their money under Seychelles' prior law on insolvency. But about a year after Siva lost his case in Britain, the island nation "reformed" its bankruptcy statute, first introduced by Seychelles Finance Minister Jean Paul Adam, thereby shortening the timespan of official bankruptcy from three years to one and also making it more difficult for creditors to collect from the new owners of transferred assets.
That change occurred mere weeks before Siva became the first person in the history of Seychelles to file for bankruptcy. To date, he is also the only person to have done so, before or after the law changed. He hasn't paid Batelco a cent and his actual financial relationship with his former wife remains a mystery.
The whole story, uncovered by The Daily Beast, highlights the role of questionable offshore tax shelters, of which Seychelles is a small but hyper-caffeinated example, in allowing an international elite to transcend borders and sovereign jurisdictions in order to safeguard their assets.
The 59-year-old Siva first rose to prominence in India's southern state of Tamil Nadu in the mid-1980s after he acquired Sterling Computers and sold cut-rate PCs in a burgeoning subcontinental tech industry, transforming the company into one of India's top three in its field. Frequently adorned with gold Rolexes and known for his obsession with health food and personal fitness, Siva formerly lived and worked out of presidential suites at the Ritz Carlton and Pan Pacific hotels in Singapore. He spent in excess of $80 million to buy himself three personal jets because, as he put it, "Every week, I have at least three flights to catch."
As a "back-up plan," in 2008 Siva also became the first member of Dragon Blaze, a "luxury lifestyle" concern run out of Malaysia, which grants its members access to a fleet of even more comfortable aerial and aquatic conveyances. (The annual membership is $1 million.)
Over the past four decades, he's had a hand in all sorts of things: engineering, shipping, commodities trading, and alternative energy. According to NGO Grain, an international nonprofit that supports small farmers, his Siva Group gobbled up about "a million hectares of land in the Americas, Africa and Asia, primarily for oil palm plantations," making him "one of the world's largest farmland holders."
Siva aimed to set up a new U.S. operation by relocating to Fremont, California, in 1996, buying M.C. Hammer's mansion following the latter's own loss of fortune, but by the mid-2000s, he opted to move to Seychelles and became a full citizen. This decision was followed almost immediately by his nomination as ambassador-at-large.
In a 2008 U.S. State Department cable published by WikiLeaks, U.S. diplomats relayed statements by Ralph Vocere, "editor of a local paper and member of an opposition party," alleging that Siva was part of a Seychellois "business mafia" that was buying land from the Seychelles government at the expense of a battered and hopelessly corrupt national economy—this, as the nation was seeking bailouts from the International Monetary Fund and World Bank.
"[N]o one can deny that Siva has profited from his time in Seychelles," the cable states. "He now owns many business [sic], three islands in the Seychelles archipelago, and was nominated Ambassador-at-Large by President Michel after only being in Seychelles for about a year. Soon after awarding him the position, the Government of Seychelles [GOS] requested a U.S. diplomatic visa for Ambassador-at-Large Siva. When Post requested information as to the plans and nature of the diplomatic trips planned by Siva, the GOS withdrew the application."
By 2008, Siva was one of Seychelles' largest landowners. He also donated an unspecified sum to the creation of Espace, a 6,500-square-meter, $12 million performance-and-shopping centre in Victoria, Seychelles' capital. It was the project of a youth organization called JJ Spirit Foundation, the patron of which is none other than Seychelles President James Michel. The opening ceremony for Espace occurred just days after the British High Court judgment against Siva.
Seychelles has been called the "world's first socialist tax haven," with a post-colonial history tethered closely to the Italian mafia and South African apartheid, according to reports. With a population of a mere 89,000—smaller than that of Flint, Michigan—Seychelles has adopted an ask-no-questions economic policy catering to a jet-set, billionaire class of foreigner who travels there not to luxuriate in the tropical paradise where Kate and Wills honeymooned, but to set up companies for the purposes of moving GDP-sized amounts of money around the world.
Much of Seychelles' economy functions as a service industry for nominee directorships and hassle-free corporate filings. As such, according to the Independent Consortium of Investigative Journalists (ICIJ), Seychelles is "an offshore magnet for money launderers and tax dodgers," a reputation owing, ICIJ finds, a great deal to the dubious company kept by its president and his coterie of advisers.
In the past two years alone, all sorts have passed through Seychelles including a mobbed-up Slovakian businessman accused of murder and the son-in-law of former Tunisian dictator Zine El Abidine Ben Ali, who lives there still, free from the threat of extradition on the pretext that he'd not receive a "free and fair" trial in post-revolutionary Tunis, where he has been sentenced to 16 years in jail on corruption charges. At least four shell companies that launder stolen Russian taxpayer money, connected to the notorious Magnitsky affair, were established in Seychelles. And the unscrupulousness is by no means confined to authoritarian regimes. In 2011, it was discovered that a subsidiary of the Reserve Bank of Australia moved millions in bribes through Seychellois companies. A year later, two Israelis pleaded guilty in the U.S. for running an unlawful online pharmacy through similar legal structures.
"We're seeing the abuse of companies that are either registered in Seychelles, or use nominee directors from there, to hide assets or conduct dubious activity," says Tom Mayne, a specialist in offshore jurisdictions formerly affiliated with the transparency watchdog Global Witness.
With such precedents, then, fast-tracking a divorce seems a modest request. Documents obtained by The Daily Beast indicate that Siva filed a motion for his petition to divorce Jayalakshmi Sivasankaran to be processed as a matter of urgency, citing the former's need to travel, and in camera, so as to not to interfere with Siva's role as diplomat.
The divorce was filed and temporarily granted within three days. A second petition was then filed to speed up the time for which it takes a Seychellois divorce to become absolute from six weeks to four. The entire dissolution of marriage and transfer of close to $100 million in assets took about a month and concluded at the end of April 2014. Other documents obtained by The Daily Beast indicate, however, that Jayalakshmi and Siva's father both resided at the same address in India as of late August 2014—four months after she became the former Mrs. Siva.
On June 12, 2014, the British High Court ordered Siva to pay $212 million to Batelco. Had he not got the time for the finalization of his divorce reduced to a month, there's every chance that he'd have still been legally married to Jayalakshmi when the decision came down and that the $100 million in assets he granted her in the quicky settlement would therefore be susceptible to seizure to satisfy the judgment.
June was also the month that Seychelles' National Assembly, where President Michel's ruling party controls 31 of the 32 seats, discussed an insolvency amendment shrinking the time for an individual's state of bankruptcy from three years to one and making it more difficult for receivers to try to recoup reassigned assets from the legally broke. The amendment passed soon thereafter.
And the timing was just right for Siva. On July 16, Britain's High Court issued a Worldwide Freezing Injunction on all of Siva's assets. It was a month later that he became the first Seychellois citizen to ever file for bankruptcy under the country's newer, more favorable conditions for doing so.
Also interesting are the other assets he transferred that summer. One was a large Canadian property located in British Columbia—279 Anna's Drive, Salt Spring Island—which Siva Limited gave to Axcel Sunshine, British Virgin Island-registered company. According to Companies House, Britain's corporate registry, the director and 25 percent-owner of Axcel Sunshine is a woman named Nithyavathi Venkatesan. As of 2004, her listed address was 44896 Vista Del Sol, Fremont, California—the M.C. Hammer mansion owned at that time by Siva. The sale documents were allegedly signed on July 11, 2014, five days before the High Court freezing order, but the transfer was not actually filed until July 22.
"Notice how it works," said Ben Judah, author of a forthcoming book on London and an anti-corruption campaigner. "It shows that nation-states have become obsolete in the policing of the mega-rich."
Siva did not respond to The Daily Beast's request for comment on this story.