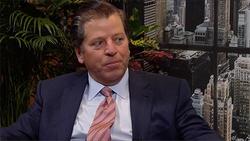 Paul Pittman, CEO of Farmland Partners
Agrimoney | 2 December 2015
'It's very, very hard to lose money on farmland'
If there's anyone you might think would be concerned about the end of the boom in US farmland prices, it would be the head of a company which has grown from a small-time landholder to one of the top 20 investors in less than two years.
Farmland Partners, which floated in New York last year with holdings of a little over 7,000 acres of US farmland, saw its portfolio pass 100,000 acres this week, with a $31.8m purchase of land in Louisiana.
That took the value of the group's portfolio to some $650m-700m, according to Paul Pittman, the Farmland Partners founder and chief executive.
And in a market where he admitted that land prices are "not growing in the US right now.
"They are probably trickling lower."
'Very, very hard to lose money'
But that is not injecting a sense of concern.
This is in part because the group's model relies on renting out land to growers, rather than farming the plots itself, besides capital appreciation.
And while the farmland market has had better and worse years, it has not shown negative total returns – ie including rents as well as capital growth – for more than one quarter on data from real estate professionals group Ncreif going back to 1992.
Sure, that data excludes the 1980s land price crash, when soaring US interest rates put a land price boom into reverse in some style.
Still, "on a five-year investment horizon," which is the shortest kind of timescale that investors in Farmland Partners should be thinking about, "it is very, very hard to lose money on farmland," Mr Pittman told Agrimoney.com.
On a seven-year horizon, farmland investors "have never lost money", with even those who bought at the market peak in the 1980s seeing their investment return to par seven years later.
'Food demand does not go down'
The market is supported in part by the well-publicised dynamics seen backing the case for agricultural investment long-term, and in particular the need to feed an ever-larger world population which, ever richer, has greater and more sophisticated dietary demands.
"Food demand does not go down," Mr Pittman said, speaking on the sidelines of the Global AgInvesting conference in London.
"As long as population is growing, as long as GDP per capita is going up, you are not likely to see food demand go down."
No new frontiers
And the need for increased crop production can longer be met by an expansion in farmland area – increasing underlying demand for what land there is.
"Through history we have always met increase need for food by increasing the number of acres under the plough.
"But Brazil was the last place where we could bring a large number of new acres into production.
"We have done that now."
And what land is being turned to agriculture is largely of lower potential than that being lost to the likes of urbanisation, with farmers past having turned to the most productive land first.
'Bloom is off the rose'
The squeeze has only boosted the long-term potential for values of what land there is, Mr Pittman said.
Hence his view that the slowdown in the farmland market is an opportunity rather than a threat.
"I would prefer to be buying when the bloom is off the rose, and when people have a slightly more measured view of the market," Mr Pittman said.
Indeed, there is no sign of a waning in his appetite for deals, seeing the group continue to buy some $200m-250m of farmland a year.
"At our average of about $5,000 an acre, that's about 50,000 acres a year."
In five years' time, he sees Farmland Partners, which believes it is already among the top 20 US farmland owners by value, boasting some $2bn in assets.
Into Australia?
And not all of these will be in the US.
Sure, the group sees the bulk of its expansion occurring in its homeland where, with some $30bn of land changing hands every year, "there is no limit to the scale we can achieve", at least for a while.
However, it is looking abroad too, to diversify its holding "some time" in the next two to four years, with Australia "the first place I think we would go," Mr Pittman said, adding that the group already has a close eye on the country.
Besides being a "big market", meaning that acquisitions can be relatively readily made, the country passes the key test of having "iron clad property rights", cutting the risk to Farmland Partners of investing there.
It is also "probably the geography best places for benefiting from Asian demand growth," given its proximity to big importers such as China and Indonesia.
This includes for meat, with Farmland Partners, which has up to now focused solely on cropping land, to "probably try to work out some way to get into protein".
Other targets
New Zealand is in Farmland Partners' sights too, although being a smaller market, it may prove less of a priority than Australia, Mr Pittman said.
And Canada is a potential target too, although being next to the US, "we do not get a large diversification away" from the group's existing footprint.
What is not likely is an acquisition in Europe a place which, while passing the iron clad property rights test, displays farmland values inflated by non-agricultural concerns.
"You get things like population density coming into play, or in the UK some inheritance tax planning," with British values seen inflated in part by tax-free status for those passing on active farms in their will.
UK land yields of less than 2% a year would not fit the Farmland Partners business model, with "our cost of capital too high" to make such low rents viable.
They would certainly leave the group more exposed to a retreat in land prices.