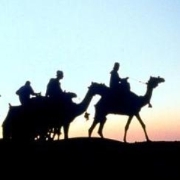 Associated Press | 16 November 2008
By ADAM SCHRECK
NAHEL, United Arab Emirates (AP) — In the dunes around this sun-scorched desert village, where camels still plod along dusty roads an hour south of Dubai's skyscrapers, they're making the wasteland bloom.
Row upon row of bell peppers grow plump in a temperature-controlled greenhouse. Lilies and roses bud nearby, and strawberries are on their way, all thanks to sophisticated water-saving irrigation.
Yet even high-tech establishments like the Mirak Agricultural Services farms here and elsewhere in this riverless country will never feed the region's rapidly growing population. It's that realization that is persuading wealthy Gulf Arabs to look far beyond their shores for more fertile acreage — tens of thousands of acres, in some cases.
There are simply too many mouths to feed and not enough water. Lush urban landscaping and ambitious agricultural projects here and in Saudi Arabia — which once spent so much on farm subsidies that it exported surplus wheat — are quickly draining aquifers, including some that are millennia old and cannot be refilled.
"It's like oil," said Julia Bucknall, a World Bank researcher who has written about the region's water use. "It's essentially a nonrenewable resource."
That stark reality — and rising food prices — is sending the region's leaders scrambling to lock up even more long-term food supplies abroad. And where once the region was content to spend its petrodollars on food sold on the open market, Gulf nations now are quietly scouring the globe for rich farmland to rent or buy outright.
The prime ministers of Qatar and Kuwait traveled separately to Cambodia this year to discuss securing paddy land for rice-growing. UAE President Sheik Khalifa bin Zayed Al Nahyan visited Kazakhstan in central Asia, where agricultural investments were likewise high on the agenda.
Dubai World, a sprawling conglomerate controlled by that emirate's government, last month said it was creating a new subsidiary targeting global investments in a wide range of commodities, including food.
Plans are also accelerating in the private sector.
The Saudi Binladin Group, for example, is considering investing more than $4 billion to grow food in Indonesia, said Salim Segaf al-Jufri, the Indonesian ambassador to Saudi Arabia. Under the proposed project, the company would produce basmati rice in Sulawesi, Papua and western Java.
Most such talks are continuing in private. Of those companies that could be reached for comment, none made officials available to discuss their investments in detail.
That may be because many of the deals are being hatched in volatile countries, such as Pakistan and Sudan, that have serious domestic food concerns of their own. The idea of shipping off homegrown crops to feed rich foreigners could stir dissent.
"These are countries that come with a lot of political baggage," said Eckart Woertz, program manager for economics at the Gulf Research Center, which estimates the Gulf's conventional water resources will be gone within three decades. "People riot when they don't get food."
Experts say the agriculture investments, if done well, could be a win-win situation. The Gulf gets greater food security, while poorer developing countries benefit from added jobs and improved technology.
But there are concerns, too.
The head of the U.N. Food and Agriculture Organization, Jacques Diouf, has warned that foreign land acquisition and long-term leasing schemes, if done poorly, risk "creating a neocolonial pact ... and unacceptable work conditions for agricultural workers."
Even so, some countries are seeking out investment.
Pakistan, already a key source of labor for the Gulf, has been among the most active. This spring, Islamabad helped organize a road show in Dubai aimed at boosting investment in predominantly Muslim Pakistan's agriculture and dairy industry.
Huma Fakhar, managing partner at MAP Services Group, a market research and trade consultancy which sponsored the event, said Pakistan was a logical choice for Gulf investment.
"We provide the human capital and the raw materials, and they provide the financial capital and technical know-how," she said.
Fakhar said an investor from Abu Dhabi, whom she declined to name, bought 40,000 acres of farmland in southwestern Pakistan's Baluchistan province last year. Two UAE private equity firms, Emirates Investments Group and Abraaj Capital, have also expressed interest in investing directly in Pakistani agriculture, she said.
Emirates Investments did not respond to requests for comment, and Abraaj declined to discuss the matter.
"We are interested in the sector. That's all we can really say," Abraaj spokesman James Cordahi said.
Not all the investments involve direct purchases of land.
Gulf nations, along with the Chinese government, have poured hundreds of millions of dollars into a massive hydroelectric project in northern Sudan. The Merowe Dam on the Nile is being built mainly to produce electricity, much of which is slated for agricultural uses such as irrigation and groundwater extraction.
Abu Dhabi, Kuwait, Saudi Arabia, Qatar, Oman and a Kuwait-based pan-Arab fund have all provided loan financing for the project, while China has pledged the majority of the loans for power lines and related substations.
The investment appears to be paying off.
The Abu Dhabi Fund for Development, a government body that has provided $200 million in loans for the dam, is among a number of Gulf entities that have since taken a direct stake in Sudanese agriculture.
The fund did not respond to repeated interview requests about its plan to plant alfalfa for livestock and possibly other crops on 70,000 acres of Sudanese farmland. Officials have said the project is part of a broader effort to lock in food supplies for the emirate, the largest and richest of the seven comprising the UAE.
Southeast Asia is eager to forge similar deals. The 10-nation Association of Southeast Asian Nations said during a recent meeting of finance ministers in Dubai that food security and agriculture investment were a priority for the bloc.
"I think investment in that area is a sure bet," ASEAN Secretary-General Surin Pitsuwan told The Associated Press after the meeting. "Rather than being at the receiving end of the finished products, I think you can go downstream into the production. You know, you can acquire farmland, you can invest, you can bring in new technologies with the resources that the Gulf has."
Still, doubts remain.
"It's not just about investing in just one farm, but about developing a whole sector," Woertz said. "The (Gulf) guys are not farmers. Why not leave that to the specialists?"
Najieb Khoory, who has coaxed crops out of the desert here for over two decades, agrees.
"If there is any major problem, the first thing that (producing) country will do is to stop that export," said Khoory, the Mirak company co-owner and managing director. "Of course it's risky."
Associated Press Writer Zakki Hakim in Jakarta, Indonesia, contributed to this report.
---