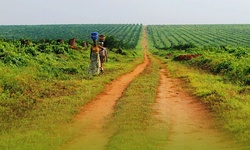 Feronia's Yaligimba palm oil plantation in the DRC. Feronia's main shareholders include development finance institutes from the UK, France, Spain and the US (Photo: Feronia)
FrontLineDefenders | 23 November 2015
DRC: Investigation and intimidation against HRD Augustin Alphonse Bofaka and other human rights defenders
On 15 November 2015, human rights defender Mr Augustin Alphonse Bofaka was interrogated by the National Intelligence Agency (ANR) in connection with a recent protest against a multinational company accused of land grabbing and environmental degradation.
He also received several threatening phone calls as a result of his role as a community mobiliser.
Mr Augustin Alphonse Bofaka is the coordinator of Centre d' Animation pour le Development et l'Auto Promotion – CADAP (Centre for Assistance to Development and Self-Promotion), a non-governmental organisation that advocates for the protection of community forests and promotes environmental preservation. CADAP is a member organisation of the Réseau d'information et d'Appui aux ONG nationales – RIAO-RDC (Network of Information and Support to National NGOs), a network of 256 non-governmental organisations and 333 farmers' associations across different provinces of the Democratic Republic of the Congo. RIAO-RDC has played a prominent role working with communities in rural areas of the DRC to fight for local communities' rights to the land. The network has also denounced several human rights abuses committed by multinational companies in rural areas, particularly FERONIA.
On 13 November 2015 Augustin Alphonse Bofaka received a threatening phone call from an intelligence officer from the ANR in Kisangani. The officer accused him of being the main instigator of protests that were organised in Mosite and Yaoselo from 29 October 2015 to 11 November 2015 denouncing FERONIA and its activities. On 11 November, a local administrator also accused Augustin Alphonse Bofaka of inciting the population to revolt and that he was to blame for the roadblocks erected in Yaoselo during the protests.
The ANR appears to have initiated interrogations against all those suspected of playing a lead role in the protests against FERONIA. On 12 November, several customary chiefs were interrogated, and many of those who took part in the protests have reportedly gone into hiding.
The interrogations and intimidatory acts have occurred in the aftermath of the publication, in June, of a report titled "Agro-Colonialism in the Congo". RIAO-RDC contributed to the report, along with the NGO Grain. The report highlighted the illegal occupation and the human rights abuses allegedly committed by FERONIA.
Front Line Defenders is concerned at the ongoing investigation and harassment suffered by Augustin Alphonse Bofaka and other individuals involved in the protests, as it is believed to be an attempt to silence them and stop their legitimate work in denouncing land-grabbing and other alleged abuses linked to the agro-business in the area.