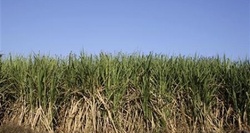 The Africa Report | 27 May 2014
Mauritius' Omnicane to invest $250 million into Ghana's sugar plantations

By Dasmani Laary
A Mauritius sugarcane firm Omnicane is set to invest $250 million into sugarcane plantations in northern Ghana, creating 2,000 jobs and boosting income in the impoverished region.
A factory with an annual production capacity of 100,000 tonnes of refined sugar is expected to be established.
Northern Ghana, with a population of 2,5 million people, is the largest region in Ghana, but remains quite poor.
Nearly 68 per cent of the economically active population are classified as self-employed, while 22.9 per cent are unpaid family workers. Only a measly 6.1 per cent are formal employees.
The vice Prime Minister of Mauritius, Charles Xavier-Luc Duval, who is leading over 30 business delegation for a three-day visit to Ghana, has already been to the northern region to assess business opportunities.
Duval said the region presented great business opportunities for massive investment in the sugar industry to create jobs improve living conditions.
Ghana's minister of Trade and Industry, Haruna Iddrisu, at the opening of a business forum on Thursday, said "with a consistent growth rate of between 7 and 14 per cent, Ghana holds great prospects for massive investment".
"I encourage businesses not to hesitate to invest in Ghana," he added.
A memorandum of understanding between the Ghana Stock Exchange and the Stock Exchange of Mauritius was signed, setting the stage for future bilateral treaties between the two nations.
Another memorandum of understanding was handed over to Ghana's Ministry of Food and Agriculture officials to study.
The agreement forms the basis for strengthening investment partnership in the agricultural sectors in both nations and correct imbalances in the Ghana's import bill, which rose to US$17 billion in 2013 from US$ 11 billion in 2010.
Duval pledged to share his Mauritius's longstanding expertise in fisheries, rice, poultry and sugarcane plantations with Ghana to help reduce it's the huge recurrent import bill.
He called on African leaders to explore varied dimensions of intra-Africa trade and take the opportunity in the existing trade gap as a move to diversify and stabilise the continent's economies.
Intra-trade within the European Union is around 70 per cent, 52 per cent for Asian countries, 50 per cent for North American countries and 26 per cent for South American countries.
Africa trades more with the rest of the world than it trades with itself, with intra-African trade accounting for hardly a tenth of the region's total trade.
With the right regulatory frameworks and political will, the potential for trade among African countries could unlock and contribute significantly to growth and development goals of the continent.