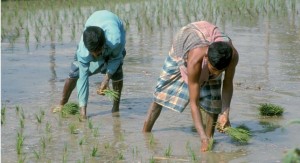 Asian Tribune | 2008-10-29
Muhammad Ashraf Ali Faruk
Myanmar proposed to Bangladesh to take lease of at least 50,000 acres of land in its Rakhine state for contract farming in a meeting between two countries, held in Myanmar in May 2007. Bangladesh responded to Myanmar's proposal positively and is expected to sign a contract on the matter after making a feasibility study. The land would be leased to produce crops like paddy, onion, maize, soybean, tea, and sugarcane. An rough estimation shows that at least 10,000 Bangladeshi farmers mostly from Chittagong region could be employed through this contract farming. According to a proposal, up to 5,000 acres of cultivable, fallow or wasteland is available for plantation crops, 3,000 acres for fruit gardens and 1,000 acres for seasonal crops for contract farming.
Land tax exemption for a period from two to eight years and income tax waiver for a minimum period of three years is also offered to Bangladeshi private entrepreneurs. Only 12 per cent of total land area is under cultivation in Myanmar and its liberal policy on leasing out lands for setting agro-based industry is indeed attractive. Bangladeshi farmers have innovative knowledge on farming and they will be able to bring a huge expense of Myanmar land under contract farming in future. This will help Bangladesh to ease food crisis that it is facing these days. Bangladesh-Myanmar business promotion council has revealed that Bangladeshi farmers may primarily concentrate on producing three types of agricultural products-paddy, pulse and maize-under contract farming in Myanmar.
At present, China and Thailand have contract farming practices at Myanmar. Thailand is accelerating its agricultural investment in the form of contract farming with neighboring countries that includes Cambodia, Laos, Myanmar, Thailand, and Vietnam. Thailand has taken an operation and investment plan on contract farming from August 2006 to April 2008.
According to the plan, 119 entrepreneurs from Thailand will invest in crop planting on 1.17 million rai of land, or about 468,000 acres, along Thailand's borders and the inner parts of neighboring countries. A target has been set to import nine crops from the contract farming areas during the period. The crops include maize for animal feed, soybean, Job's tears (or luk dueai in Thai), eucalyptus, mung bean, peanut, sesame, castor oil, and sweet corn.
Imports to be granted privileges. A total of 46 Thai entrepreneurs took part in the contract-farming project during 2005 and 2006, covering an area of more than 300,000 rai, or over 120,000 acres. They have grown six crops, namely maize for animal feed, sweet corn, soybean, peanut, mung bean, and castor oil. During this period, Thailand imported 7,806 tons of the target crops under the project. Thai Government is expected that the project from 2006 to 2008 will generate job opportunities for a large number of people. It will help develop farming areas, covering more than 400,000 acres, in neighboring countries.
---