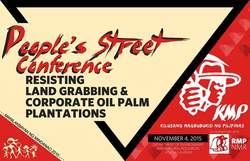 InterAksyon | 4 November 2015
Lumads blast APEC, rap plan to convert 1 million hectares into palm oil plantations

By: Diego Mora
MANILA - Farmers and indigenous people (IP) nationwide protested in front of the Department of Environment and Natural Resources (DENR) on Wednesday to denounce the plan to convert one million hectares of land into palm oil plantations.
The protest, the Kilusang Magbubukid ng Pilipinas (KMP) said, is a prelude to bigger actions as the Aquino government prepares to host the 15th Leaders' Summit of the Asia Pacific Cooperation (APEC) on November 18 and 19.
More than 100 Lumad farmers from the Manilakbayan contingent trooped to the DENR to oppose the planned conversion.
In Mindanao alone, more than one million hectares of land are being eyed as potential palm oil production areas.
Bohol and Palawan are also targeted for palm oil plantations expansion.
The activity will be highlighted by the people's critique of the government's Philippine Roadmap on the Palm Oil Industry for 2016-2023 and testimonies of farmers, agricultural workers, and Lumad affected by land grabbing and inhuman working and living conditions in oil palm plantations.
Palm oil plantations in the Philippines cover almost 55,000 hectares.
The government wants to drastically expand oil palm plantations to one million hectares by 2030.
"Trade and investment liberalization, which is among APEC's pillars, will severely impact the agriculture sector, especially farmers and indigenous peoples as the government authorizes massive land grabbing and auction of lands for the utilization of foreign and local investors," said KMP chairman Rafael Mariano as he lambasted the DENR for "pimping agricultural and ancestral lands" to oil palm plantations and mills under the guise of reforestation.
"APEC and its pro-foreign policies will only worsen the economic situation of Filipinos, especially farmers and indigenous peoples due to global land grabbing and expansion of agro-corporations and plantations in the country," Mariano said.
"This impending drastic expansion of palm oil plantations in the country in the next few years will totally displace thousands of farmers and Lumad people who are already victimized by the government's intense militarization campaign in Mindanao, particularly in the Caraga region," said Ariel Casilao, vice president of Anakpawis Partylist and co-convenor of the Manilakbayan 2015.
"Taking advantage of the cheap rural labor in the countryside, the government is targeting local and foreign oil palm corporations and investors to put up oil palm nurseries and breeding centers in different regions and provinces and to increase palm oil production areas to 353,000 hectares in 2023 and one million hectares possibly in 2025 or 2030," he added.
There are eight existing palm oil mills owned by six companies: Agumil Phil. Inc. (AGPI), Palm Inc., A. Brown Energy Resources Devt. Inc. (Aberdi), Kenram Industrial and Development, Filipinas Palm Oil Plantation Inc., and Univanich Carmen Palm Oil Mill.
These oil mills, other companies, and businesses engaged in palm oil production, together with local landlords, are in control of the vast tract of lands that were converted or utilized as palm oil plantations.
To date, nine companies from Malaysia and Indonesia, the two biggest oil palm producers and exporters in the world, have signaled their intention to invest in Mindanao.
Among these companies are Felda Global Ventures, New Britain Palm Oil Ltd.-PNG, Pertamina-Indonesia, Perkebunan Nusantara-Indonesia, and Bali Palm Oil-Indonesia.
Aside from its uses in cooking, palm oil, extracted from oil palm trees, is also widely used in the food, drug, cosmetics, and agro-chemical industries, and processed into biofuel.
Palm oil is highly profitable since it needs small capital to cultivate and only take three years to bear fruit.
It can be harvested twice a month and remain productive from 22 years to 25 years.
Presently, 90 percent of all palm oil comes from Indonesia, Malaysia, and Thailand.