APC| 15 October 2015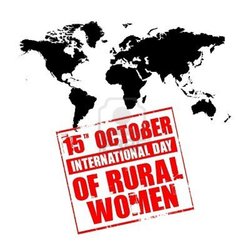 On the occasion of International Rural Women's Day from
1 to 16 October
, rural women from 20 countries across the globe are taking a strong and united stand against the unprecedented scale of land and resource grabbing in the world.
Press Statement
Massive land grabbing and plunder of resources kills peasant women and their communities, says APC
On the occasion of the International Rural Women's Day, the Asian Peasant Coalition (APC) stated that "massive land grabbing and plunder of resources by big local and foreign investors as well as the tightening corporate control over food and agriculture has intensified hunger, poverty and displacement, thereby killing peasant women and their communities."
Across the world, rural women tell a similar story: they till the land, they nurture the seeds, and they produce food. Study shows that rural women produce between 60 to 80 per cent of the food in most underdeveloped countries making them the key to food security. According to estimates by FAO, supporting food production by women by 30-40% could decrease global hunger by 12-17%. This would translate to 100-150 million less hungry people in the world.
"But how can we reduce hunger when the women whom we recognized as food producers are being displaced from their lands and livelihood as peasants and agricultural workers?," remarked Zenaida Soriano, APC Southeast Asia Coordinator and Chairperson of AMIHAN (National Federation of Peasant Women) based in the Philippines.
"Governments in Asia implements Public and Private Partnership (PPP) projects which worsened landlessness and directly impacts Asian agriculture. In the Philippines, the Aquino government's Clark Green City project that covers 36,000 hectares of productive and abundant agricultural lands will displace some 20,000 Aeta and farmer familiesin the towns of Capas, Bamban, Angeles City, and Mabalacat. The Central Luzon Link Expressway (CLEX) would convert prime agricultural lands and home lots of about 319.5 hectares in Central Luzon, the country's rice-granary. The CLEX will affect almost 400 farmers and 10,000 agricultural workers. In Andra Pradesh, India, the government will grab 12,000 hectares of prime agricultural lands in the name of new capital City that will displace at least 100,000 peasants," said Rahmat Ajiguna, APC Secretary General based in Indonesia.
Ajiguna added that, "In Indonesia, land grabbing works through the government's agriculture and land policies. This is concrete in the Merauke Integrated Food and Energy Estate (MIFEE) in Papua, the government uses the new law (Law No. 2 2012) to provide so-called land for development and public interest on agriculture. It will develop 1.6 million hectares of primary forest to be converted into the integrated agro fuels and food estate."
"On the other hand, farmers advancing aspirations for a genuine land reform and genuine rural development are victims of intense militarization.In Indonesia, according to the Aliansi Gerakan Reforma Agraria (AGRA), under Jokowi government, 3 people were killed, 29 were harassed, and 52 were criminalized for defending their lands," according to Rafael Mariano, APC Chairperson.
"In the Philippines, extra-judicial killings continue, with more than 160 farmers and indigenous peoples killed since 2010 while more than 40,000 lumads have been forcibly displaced from ancestral domains due to militarization. Ironically, the government agencies that are supposed to protect its people are the ones attempting to shut down the farmer-led Sitio Panaghiusa Rice Mill in Barangay San Vicente, in the Municipality of Trinidad in Bohol," added Mariano also the Chairperson of the Kilusang Magbubukid ng Pilipinas (Peasant Movement of the Philippines – KMP).
"Despite this, peasant women are rising up in great numbers and taking a big role in all the mass struggles in Asia and the world. Today, we call all peasant women to heighten its struggle for land. Only genuine agrarian reform and food sovereignty will end hunger and poverty," Soriano ended.
In the Philippines, AMIHAN picketed the national office of the Department of Agriculture and rally at Mendiola Bridge this morning calling the Aquino government to stop land grabbing and immediate pull out of military in peasant communities. The Bangladesh Bhumiheen Samity (BBS) organized a Human Chain in front of the National Press Club in Dhaka, Bangladesh. In Andra Pradesh, India, the Andra Pradesh Agricultural Workers Union (APVVU) in collaboration with Marginal Farmers Development Cooperative, Andra Pradesh Fisher People's Forum, SAHANIVASA and NISRAGA organized solidarity activities.
The APC joins the 16 days of Global Action on Rural Women under the slogan "No Land, No Life!" led by Pesticide Action Network Asia Pacific (PAN AP), an associate member of APC. From
1 to 16 October
, rural women from 20 countries across the globe are taking a strong and united stand against the unprecedented scale of land and resource grabbing in the world.
Reference:
Zenaida Soriano
APC Southeast Asia Coordinator and
AMIHAN Chairperson
Mobile no.: +639-214571904
Rafael V. Mariano
APC Chairperson and KMP National Chairperson
Mobile no.:+639-982898052
Rahmat Ajiguna
APC Secretary General and
AGRA Secretary General
Mobile no.:
+62 82110857684