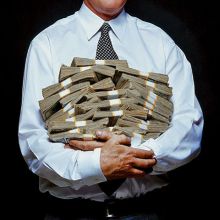 PE Hub | October 11th, 2008
SAO PAULO (Reuters) - Private equity funds remain optimistic that Brazil's farm sector offers investment opportunities despite the deteriorating world credit market, executives said on Thursday.
"In the emerging markets where people have began to eat beef, such as China, this trend is very stable," said the president of local meatpacker Mercosul, Augusto Marques da Cruz Filho, at a private equity event on Brazil's agricultural sector.
Brazil is the world's largest beef exporter.
"If people begin to cut back due to economic downturn, it will be the new car, TV or refrigerator that is put off, not the weekly meat ration," he said.
Mercosur sold a managing stake of its company to private equity firm AIG Capital's local unit FIP AIG. AIG's management support has managed to turn the company around from a loss generating company up through most of 2007 to generate increasing profits over the past three quarters.
"The recent commodities market correction and Argentina's political situation is improving acquisition opportunities," said Harald Brunckhorst, the director of operations at Calyx Agro, Louis Dreyfus's private equity fund that focuses on agricultural land in Brazil, Argentina and the Southern Cone.
Brazil's sugar cane, soybean and meat packing industries are heavily leveraged industries that will likely see renewed pressure to consolidate in the coming year due to the tightening credit situation around the world.
The fund manages or controls nearly 60,000 hectares of productive land in Brazil that produces soy, corn and cotton. It raised $177.5 million initially, of which it has committed $120.7 million. Brunckhorst said the company is planning to raise capital again some time in the near future when the market conditions are favorable.
"Land is a very attractive asset that few institutional investors have access to," he said, adding that the fund may go public in a few years with a stock offering.
In what analysts are concerned may be the resurgence of nationalism, the Brazilian government is considering a proposal for law that would restrict foreign capital-backed funds from buying productive farm land in Brazil.
When asked about the threat of the law to the fund's activities, Brunckhorst said, "We manage over a dozen companies in Brazil. We have invested heavily to improve the value and production on thousands of hectares of land: I have no doubt that this law will not be a problem for us."
He added that the law would most likely target companies or investors simply coming to Brazil to buy land on a speculative basis, to drive up property rates and turn a quick profit without actually improving the land.
"Speculators in land may have problems with such a law, especially given the climate as a result of the U.S. real estate market," Brunckhorst said. (Reporting by Reese Ewing; editing by Jim Marshall)