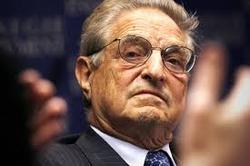 George Soros is participating in a $500 million capitalisation of a new firm, Tunbridge Partners, that will invest in "real assets" in timber and agriculture.
Pensions & Investments | 24 September 2015
Private equity managers back new firm to take stakes in real assets managers
By Arleen Jacobius
A consortium led by private equity firms Pine Brook Partners and Quantum Strategic Partners, a fund managed by Soros Fund Management, is investing $500 million to capitalize a new real estate investment firm, Tunbridge Partners, said Sean Gallary, Tunbridge's portfolio manager.
Tunbridge executives expect the consortium to also include U.S. public and corporate pension funds. Tunbridge will take minority equity stakes in real estate- and real asset-focused investment managers.
Tunbridge is being formed by its chairman, Brian Finn; Mr. Gallary; and placement agent and real estate advisory firm Hodes Weill & Associates.
"We are very excited to back Brian, Sean and the Hodes Weill team as they pursue this great opportunity," said William Spiegel, a Pine Brook managing director, in a written statement. "Real assets is the fastest growing asset class for institutional allocations and, as the investment industry continues to expand and mature, managers require capital to address a range of strategic objectives. Tunbridge is purpose-built to address this need."
Mr. Finn is currently a strategic adviser to alternative investment firm KKR & Co., and a member of the boards of Duff & Phelps Corp., BlackRock (BLK) Capital Investment Corp. and The Scotts Miracle-Gro Co.
Mr. Gallary was a managing director at ORIX USA Asset Management, investing corporate capital. He said that real assets, which includes real estate, infrastructure, timber and agriculture, is a "growth market." Hodes Weill will provide institutional coverage and capital raising expertise for the real assets managers in which Tunbridge will invest.
— Contact Arleen Jacobius at
[email protected]
| @Jacobius_PI