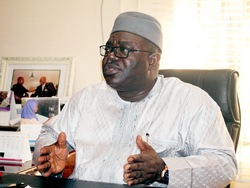 Edo State's Honorable Commissioner for Agriculture and Natural Resources, Abdul Oro, saysh 300,000 ha of land have been set aside for investment by the State government.
Agro Nigeria | 11 September 2015
Edo State sets aside 300,000 ha of land for investment
As part of its effort to becoming one of the well developed agricultural states in Nigeria within the next two-three years, the Edo State government has put plans in place to ensure agriculture strives in the state by providing a policy that encourages those in the Agric Value Chain to own a land for agriculture purposes.
The Honorable Commissioner for Agriculture and Natural Resources, Hon. Abdul Oroh who disclosed this recently in a chat with AgroNigeria at his office in Benin City, Edo State Capital noted that the State is very well blessed like every other state in Nigeria with good weather, vast land, an entire agriculture enabling environment and a political will to drive agriculture.
Oroh said the Edo State government having surveyed the state in other to identify lands available for agriculture, has articulated a policy in very clear terms that allows both investors, farmers and supporting local growers and processors and others involve in agribusiness, to own government lands irrespective of the size for about 200 thousand naira.
"Our policy is that if it is government owned land, you can get the whole land irrespective of the size for less than 200 thousand naira for your C of O total package and about five years period of grace before you can pay land use charge which is also not substantial" He said.
According to the Commissioner, the essence of the policy is to allow easy access to lands that are void of cumbrances, has the backing of the population, the host communities and all the interest groups, in other to develop agriculture in the State.
He noted that about 300 thousand hectares of land has been set aside for investment by the State government.
"About a year now Afripalm, a subsidiary of Flour Mills of Nigeria, has already acquired about 25 thousand hectares of land. We have surveyed about 200 thousand hectares of land for various investors including the Dangote Group, De United Food Investment, the producers of indomie and many other groups even Ojemia Farms as they are now going into large scale agriculture, so we have more than 12 potential large scale investors that have put boot on ground in Edo state.
"They have identified lands which we have all surveyed and we have done demographic and crop enumerations, we have done soil testing, now we are processing title document for all of them, many of them have also settle issues with communities in the State" He explained.