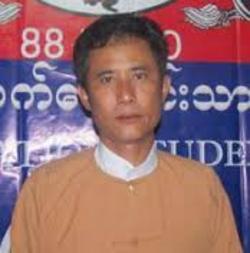 Saw Maung Gyi, an activist from the 88 Karen Generation Student Organization (Photo: thefarmermedia)
Reuters | 6 September 2015
Myanmar land activist faces prison
A prominent farmers' activist in Myanmar appeared in court on Friday in what watchdog organizations say is part of an escalating crackdown on land rights campaigners.
Saw Maung Gyi, an activist from the 88 Karen Generation Student Organization, was accused of harboring someone from an armed group, Maung Hla, a police official in Hpa-an in southeastern Myanmar, told the Thomson Reuters Foundation.
If convicted, Saw Maung Gyi faces up to three years in prison. Human Rights Watch said he is a victim of "government intimidation" based on "trumped-up charges."
The case is part of a broader campaign targeting land rights activists, as corrupt politicians and businessmen connected to Myanmar's powerful military aim to push small farmers off their ancestral territory, the rights group said.
"Land rights issues have become the number one national issue," David Mathieson, senior researcher with Human Rights Watch in Yangon told the Thomson Reuters Foundation.
Human Rights Watch said land disputes have increased dramatically since 2011, when a semi-civilian, reformist government took power after half a century of military rule.
Election Issue
Political parties, especially in rural areas, are campaigning on land issues ahead of elections on November 8, as part of the country's political transition, Mr. Mathieson said. "If the military is connected to a land grab they will be reluctant to return it, regardless of who is in power," he said.
The government, led by President Thein Sein, a former military general, denies a crackdown is taking place. The president is working to resolve land disputes which erupted before it came to power, a government spokesman said.
"There has been no confiscation or grab cases during the tenure of U Thein Sein," Zaw Htay, a spokesman for the President's Office, said in a statement sent to the Thomson Reuters Foundation. "We have resolved about 60 percent of these land disputes [which started under previous governments] ... by implementing laws and getting farmers to register for land titles."
There are no reliable figures on how much land has been seized in recent years, or how many people have been displaced, Mr. Mathieson said.
All land in Myanmar is owned by the state, but individuals and communities have land use rights and can lease the territory they have traditionally farmed to other parties or foreign investors.
"Foreign Investors Benefitting"
While powerful businessmen and military officials are responsible for most of the displacement, foreign investors from China, Thailand, Japan, India and South Korea often benefit from land grabs, using the territory as a base for infrastructure projects, manufacturing, plantations or mining, Mr. Mathieson said.
One example is in Tanintharyi Region in Myanmar's south, where palm oil plantations are expanding, said Jennifer Franco, a researcher with the Transnational Institute think tank.
"At least in the initial phase, it's less about deals with foreign companies and more about deals with domestic elites," she said. "I think there is a lot of potential for the arena of land conflicts to get worse before they get better."