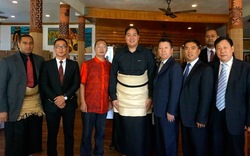 Crown Prince Tupouto'a 'Ulukalala with the Chinese private sector delegation to Tonga. Nuku'alofa. 26 August 2015
Matangi | 31 August 2015
Chinese entrepreneurs visit Tonga
A group of business men from China visited Tonga last week and looked at areas for potential investment in agriculture, fisheries and tourism.
Mr Chen Chunfeng and delegation met with Crown Prince Tupouto'a 'Ulukalala, Deputy Prime Minister Hon Siaosi Sovaleni and Minister of Agriculture and Fisheries Hon Semisi Fakahau on 26 August.
Hon Semisi Fakahau said the delegation were interested in setting up businesses in Tonga that could process cassava into starch as well cultivating mushrooms for export.
He said some of them were looking at importing wheat into Tonga to explore the production of flour products for export.
"They are looking at developing raw materials to be exported to overseas markets. This trip is important for Tonga because the entrepreneurs are visiting to see for themselves what we've got to offer. They will then return to China and inform their counterparts for follow up trips," he said.
He said that Mr Chen had promoted the relationship between Tonga and China for many years now especially with the contribution for the economic, and mutual beneficial cooperation for both sides. He noted agriculture, cassava, tourism and other cultural exchange projects.
The delegation was accompanied by Tupou Vaipulu from Tonga's Embassy in Beijing and Curtis Tu'ihalangingie a Tongan student currently studying at the University of Beijing,
They left Tonga for Fiji, Samoa, Hong Kong and Guangzhou before returning to Beijing.