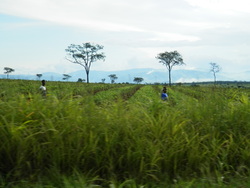 Workers on the Olam-Aviv coffee plantation in Lipokela, Tanzania
August 2015
Large-scale agricultural investments in Tanzania threaten the right to food of small-scale farmers, argues a new report published by Misereor. The report is based upon first-hand interviews with farmers in four villages of Tanzania's Southern Highlands utilizing a right to food framework.
While the right to food asserts that all should have access to food by directly producing it for themselves and/or having sufficient means to purchase it, the research indicates that the four large-scale agricultural investments investigated have restricted people's access to land and other productive resources, as well as living wages, with distressing effects on their right to food.
These trends are concerning given the rapid push by the Tanzanian government and the G7 to increase the scope and number of agricultural investments through public-private partnerships such as the Southern Agricultural Growth Corridor (SAGCOT), which covers one-third of the country's mainland or approximately 30 million hectares of land—one of many such corridors being replicated throughout the continent. The report argues that despite its focus on food security, SAGCOT's framework lacks sufficient safeguards to ensure that the right to food is upheld.
Access to land and living wages as key components of the right to food
The report highlights how access to land and adequate wages, two factors critical to the realizing the right to food, were threatened in each of four investment sites in and around the villages of Lipokela, Lutukira, Magome, and Muwimbi, Tanzania. Two of these investment sites are directly linked to SAGCOT partnerships.
In certain villages, such as Muwimbi, residents are surrounded by multiple, adjacent investments. The ensuing land pressure and restricted land access have severely limited residents' prior access to grazing lands, foraging areas, water sources, cultivable land, and paths children previously used to walk to school. Younger generations must now seek land elsewhere. Clustering multiple investment sites in close proximity to one another is not an anomaly, but rather an integral strategy of SAGCOT. As noted by one farmer in Magome, "Since the investor came for the first time, many more investors are now rapidly coming, so I think that in three more years, there will be no more land for us."
As pressure on land intensifies, those with land-based livelihoods have increasingly been compelled to rely upon income-generating activities in the form of wage-labor on the nearby investment plantations to meet basic food requirements. While the SAGCOT blueprint promises the creation of 420,000 new jobs, the research raises questions of the quality of these jobs and sufficiency of the wages to fulfil the right to food. A number of concerning labor violations were documented in the investments examined, from amount and timing of payments to dangerous working conditions. Creating new jobs cannot resolve food insecurity, the report argues, if living wages and fair working practices are not enforced.
When assessing how such large-scale land deals are negotiated, the research revealed that land transfer was often granted in return for promises by the investor to develop much-needed social services, such as dispensaries and schools - an apparently common negotiating tactic by investors made possible by a lack of state provision. None had yet delivered on these promises.
In the face of broken promises and poor labor conditions, residents have become clear about what it is they want. One farmer in Lipokela commented: "If we had a choice between cultivating that land ourselves or being employed by the investor, we would cultivate our own land and not be laborers… We would rather have our own land – we value our freedom – we would advise the government to remove investors."
Policy trends in Tanzania and beyond
In concluding that there is little indication that SAGCOT will alter the precipitating conditions and patterns of investment that enable right to food violations, the report raises important issues concerning the larger agricultural policy agenda throughout the continent. As the push for industrial agriculture and boosted production becomes mainstreamed as the solution for food insecurity and poverty, corridors such as SAGCOT are emerging beyond Tanzania. These corridors, developed through exclusionary policy-making practices that claim to represent the interests of small-scale farmers, miss the heart of the matter that without adequate bargaining power and the ability to assert their rights, supported by a sound regulatory framework and inclusive policy-making processes, small-scale farmers will continue to experience violations of their right to food.
The full report can be accessed here:
http://www.misereor.de/fileadmin/redaktion/A_Right_to_Food_Perspective_EN_2015.pdf
For further information, please contact the authors Hannah Twomey (
[email protected]
) or Christina Schiavoni.