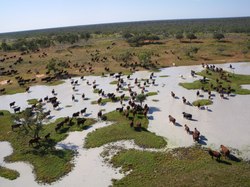 China Daily 2015-08-29
Pengxin may buy 2 cattle farms in Australia
Chinese conglomerate Shanghai Pengxin Group Co Ltd is set to become the largest farmland owner in Australia if it is successful in the acquisitions of two cattle farms for A$1 billion ($720 million).
The Shanghai-based company has placed separate offers for Consolidated Pastoral Co and S Kidman & Co Ltd, two of the country's largest beef producers, according to the Australian Financial Review newspaper. If the acquisitions are successful, Pengxin will create a cattle powerhouse that would own more than 1 percent of the Australian continent, according to the report.
Greg Campbell, chief executive officer and managing director of S Kidman, refused to confirm if Pengxin had placed an acquisition offer for the company. Nonetheless, the executive noted that the cattle property company was currently examining bids from several groups.
"There are presently a number of short-listed bidders undertaking detailed due diligence on our company and this will continue until late October, when final bids will be lodged by these parties," Campbell told China Daily in an e-mail.
Pengxin officials were not available for comment.
CPC's farms, mainly located in northern and western Australia, are focused on supplying beef to Asian markets, particularly to China and Indonesia. CPC has about 375,000 heads of cattle and owns 0.75 percent of Australia's land mass. S Kidman, with a herd of 185,000 cattle, exports meat to the United States, Japan and Southeast Asia.
The ongoing shortage of cattle in China has led to a quest for new suppliers, with Chinese companies investing overseas to meet the growing demand for red meat and dairy products.
China's beef imports are expected to grow by 12 percent this year from a year ago, according to a report published by research firm Business Monitor International.
Higher disposable income for food purchases and changes in people's diets are the main reasons for the increasing beef imports.
Aurelia Britsch, a senior commodity analyst at BMI, said: "China's beef production deficit - production minus consumption - will continue to widen in the coming years, reaching 590,000 metric tons in 2019, compared with the 380,000 tons deficit recorded in 2014."
The reason why Chinese companies are opting for Australasian players is because there are still very few countries that can export beef to China.
Currently, countries like Australia, New Zealand, the U.S., together with a few Latin American countries such as Uruguay, Argentina and Brazil, are allowed to export beef to China. Australia dominates the beef import market with a 45 percent share thanks to lower freight costs due to the free trade agreement signed with China in November 2014.