Farm Weekly| 21 August 2015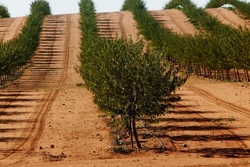 First State Super will own all the land and lease it back for 20 years to Select Harvests.
Super fund's $150m farm buy
by Matthew Cranston
THE $53 billion First State Super has made its first agricultural investment in Australia buying more than $150 million worth of almond plantations across three states from agriculture company Select Harvests.
First State Super's chief investment officer Richard Brandweiner said the super fund's purchase, aside from achieving a solid return, was about increasing its exposure to agriculture investments that helped "define the country".
"We are mindful of the implications of how we deploy capital, and to be able to deploy capital in a way that will boost productivity and support one of Australia's strongest growing exports is very pleasing to us," he told The Australian Financial Review.
The $2 trillion dollar superannuation industry invests on average just 0.3 per cent in the agriculture sector according to a survey commissioned by accounting group BDO.
There has been a growing outcry over the lack of investment by super funds in the sector, particularly by Agriculture Minister Barnaby Joyce, who has accused super funds of failing to understand the agricultural sector.
However First State's acquisition is significant. It includes the purchase of three farms including the 2000-hectare Mendook at Euston in the Sunraysia district of NSW; the 1500-hectare Amaroo near Paringa in South Australia; and the 350-hectare Mullroo near Cullulleraine in Victoria.
First State Super will own all the land and lease it back for 20 years to Select Harvests. The land component of the deal is worth about $67 million. First State will also provide ongoing capital for expansion of the plantations.
Mr Brandweiner said the deal ticked all the boxes, providing an attractive return for the super fund's 750,000 members, who range from NSW government employees such as nurses, firefighters and police to Victorian healthcare workers. First State Super was advised by Blue Sky Alternative Investments.
The deal comes hot on the heels of Canada's Ontario Teachers' Pension Plan Board and United States-based Renewable Resources Group purchase of Macquarie Group's owned and operated almond properties, also in the Sunraysia district of north-west Victoria, for more than $115 million earlier this month.
That deal was the largest since Swiss fund Adveq Real Assets, joined by US-based Municipal Employees' Retirement System of Michigan and the Danish Danica Pension Fund, purchased 18,000 hectares of almond orchards on the Murray River near Robinvale for $211 million in 2013.
Mr Brandweiner said there had been some negative connotations with agricultural investments, but super funds were beginning to reflect differently on the opportunities, especially almond production where Australia has become the second-largest producer in the world.
Australia's superannuation system is the world's fourth-largest pool of such funds and is expected to grow to $9 trillion by 2040.