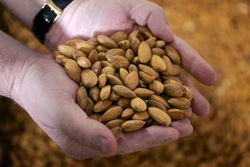 Financial Review | 10 August 2015
Canada cracks almond deal
by MATTHEW CRANSTON
Canada's Ontario Teachers' Pension Plan Board along with a United States-based investor has bought Macquarie Group's owned and operated almond properties in the Sunraysia district of north-west Victoria for more than $115 million.
The 2878 hectares at Robinvale known as Margooya and Carnarvon have 1067 hectares of mature almond groves that are owned by Macquarie Farm Assets and Resources Management, otherwise known as MacFarm.
About 940 hectares of these orchards are licensed to investors in five of Macquarie's managed investment schemes. These investors approved the sale of the entire almond orchards and about $25 million worth of water entitlements on Friday in privately held meetings.
The Ontario Teachers' Pension Plan Board is Canada's largest single-professional pension fund with $C154.5 billion ($158 billion) in net assets. The fund has made significant investments in Australian infrastructure and shopping centres in the past few years.
The Canadians' investment in the Macquarie almonds land comes hot on the heels of a major investment by Canada's other main pension funds - the Public Sector Pension Investment Board - into cattle stations in Queensland.
The funds are not the first Canadians to gain exposure to Australian farmland with Caisse de depot et placement du Quebec also having invested money here. Last year, while in Canada, Prime Minister Tony Abbott mounted a push for Canadian pension funds and other businesses to invest more in Australia.
"I hope that my visit, and the visit of the accompanying trade delegation, will encourage more Canadian businesses, more cashed-up Canadian pension funds that are looking for a safe and stable place to invest their members' money; I hope that more of them will look to Australia," Mr Abbott said.
Alongside the Canadians the California-based asset management firm Renewable Resources Group with its focus on agriculture and other sustainable resources, has also co-invested in the Macquarie almond farms. In 2013, Renewable Resources purchased Sun World International which already owned almond plantations in Australia.
With rising demand and higher prices for the nut, almond production has been firmly in the sights of investors, with Swiss fund Adveq Real Assets joined by US-based Municipal Employees' Retirement System of Michigan and the Danish Danica Pension Fund purchasing 18,000 hectares of almond orchards on the Murray River, also near Robinvale, for $211 million.
Australia is the world's second largest producer of almonds after the United States. It has been through a rapid expansion in almond plantings in the last decade, with total plantings increasing from 5907 hectares in 2001 to 28,586 hectares in 2013, according to the Almond Board of Australia. It is projected that in 2015, 82,000 tonnes of almonds will be harvested from Australian crops.
From the sale of Macquarie's almond orchards, which were started in 2006, MacFarm will receive a consideration amounting to $78.3 million. It had spent about $68 million in capital expenditure over the past nine years establishing the orchard.
Investors in the orchard will receive varying payouts after performance and operating fees are taken out by Macquarie.They will receive a positive cash return on their investment on both a pre- and post-tax basis.