DTE| 28 July 2015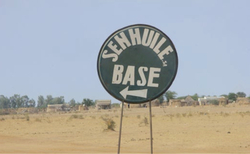 Senegal's infamous agri-business project, Senhuile SA, on verge of shutdown?
By Jitendra
A
new report
suggests Senhuile SA, Senegal's controversial agri-business project, is headed for a potential shutdown. Senhuile is facing legal hurdles over allegations of land grabbing and consistent protests by locals affected by loss of livelihood.
The report was released jointly by local non-profit, the Collective for the Defence of Ndiaël, and Italy-based Re:Common, in cooperation with international non-profits like GRAIN.
It shows that Senhuile SA claims to have secured rights to 45,000 hectares (ha) of land in northern Senegal, but has cultivated only 1,500 ha.
The project, started in 2011 by Italian and Senegalese investors to produce biofuels, has provoked fierce resistance from affected communities. Several children from the area have drowned in the project's unprotected irrigation ditches and suspicions of illicit finance have rocked the company's credibility, the report says.
The firm invested heavily in public relations to win over residents of villages around the projects. But their efforts have started backfiring and the project is mired in deeper conflict, according to the report.
"Visits with the communities show the stark contradiction between what the company says and the experiences of people on the ground, exposing the company's corporate social responsibility agenda (as) completely hollow," the report states.
The report claims that the project has put the livelihoods of more than 9,000 people at risk.
While the company has been laying off workers, it has dismissed the demands of the 37 villages surrounding the project to shut down.