[English | français | español]

le Collectif pour la Défense du Ndiaël | Re:Common

Comunicato stampa
24 giugno 2015
Senegal, progetto di land grabbing sull'orlo dell'implosione
Un nuovo rapporto scritto da alcuni ricercatori italiani e pubblicato da Re:Common dimostra che il controverso progetto Senhuile in Senegal è sull'orlo del collasso. Il progetto, avviato quattro anni fa da investitori italiani e senegalesi, è da sempre fortemente contestato dalle comunità coinvolte. Gli investitori affermano di essersi assicurati i diritti per 45mila ettari di terreno, sebbene la compagnia abbia coltivato solo una porzione del mega-appezzamento. Come se non bastasse, l'ex amministratore delegato della Senhuile, precedentemente caduto in disgrazia e oggetto di un procedimento penale, ha a sua volta citato in giudizio l'azienda con una serie di motivazioni.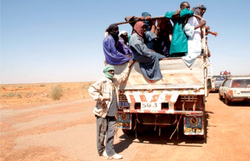 (Foto: Maura Benegiamo)
In Senegal Senhuile è sinonimo di accaparramento di terre. Da quando è nato il progetto ha conosciuto solo intoppi. Nel 2011, le comunità locali hanno inscenato una protesta in quanto fermamente contrarie all'accordo che concedeva all'azienda 20mila ettari di terra nell'area di Fanaye. Due abitanti del villaggio sono stati uccisi e il progetto è stato poi sospeso e spostato in una nuova località nel Ndiael. Lì, alcuni bambini della zona sono annegati nei canali di irrigazione del progetto, privi delle dovute protezioni, mentre dei sospetti di finanziamento illecito hanno scosso la credibilità della società. Il nuovo rapporto dimostra che gli sforzi di pubbliche relazioni dell'azienda sono inefficaci e che il progetto si è impantanato in una situazione di conflitto e nelle più profonde contraddizioni.
Ecco alcuni dei punti chiave emersi nella ricerca:
- La società ha licenziato il suo amministratore delegato, Benjamin Dummai, che è stato successivamente arrestato per appropriazione indebita, ma che ora sta facendo causa alla Senhuile per 14 capi di imputazione, tra cui l'aumento fittizio del capitale sociale a fini fraudolenti ed il riciclaggio di denaro.
- Nelle ultime settimane, gli investitori italiani hanno messo in chiaro che le loro proprietà terriere senegalesi vanno oltre i 20mila ettari loro attribuiti nella regione del Ndiael. Affermano di aver mantenuto i diritti per i 20mila ettari originariamente ceduti a Fanaye. Fanno inoltre sapere di aver recentemente acquisito 5mila ettari in Fass Ngom. Eppure l'anno scorso la società è riuscita a coltivare solo 1.500 ettari, sollevando seri interrogativi sul perché le autorità hanno concesso loro tanta terra. Al momento in tutte le aree gestite dalla Senhuile gli agricoltori e i pastori non riescono a svolgere regolarmente le loro attività, con ovvie conseguenze per la loro sussistenza. Ci sono inoltre delle voci insistenti che indicano come il progetto potrebbe essere "girato" a un'importante società degli Stati Uniti o dell'Africa Occidentale.
- Tampieri ha trascorso l'ultimo anno puntando molto sulle pubbliche relazioni per ingraziarsi le simpatie degli abitanti dei villaggi interessati dal progetto. Eppure gli incontri sul campo con le comunità mostrano una forte contraddizione tra ciò che dice l'azienda e l'esperienza delle persone, rivelando come il programma di responsabilità sociale d'impresa della società sia molto deficitario.
- Le peggiori conseguenze del progetto sono legate alla perdita di vite umane. Il mese scorso, un pastore di 16 anni è annegato nel tentativo di attraversare un canale di irrigazione realizzato dalla Senhuile. La sua famiglia si prepara a sporgere denuncia. La società ha licenziato alcuni lavoratori e respinge la richiesta dei 37 villaggi dell'area interessata di porre fine al progetto.
Questo rapporto è stato prodotto in collaborazione con il Collectif pour la Défense du Ndiaël, GRAIN, l' Investigative Reporting Project Italy (IRPI), l'associazione SUNUGAL, ed il collettivo Walking on the South (WOTS?), gruppi italiani, senegalesi ed internazionalche da anni lavorano assieme per dimostrare che il progetto è dannoso ed illegittimo
"Dopo tre anni dall'ottenimento della licenza in Senegal, il progetto Senhuile-Senethanol ha provocato, oltre alle sollevazioni dei locali, una guerra tra azionisti. Tra Dummai e la Tampieri in quest'ultimo anno c'è stato uno scambio di accuse che getta ombre inquietanti sulla gestione del progetto, sia riguardo la vecchia che l'attuale gestione gestione. Tampieri finora ha speso almeno 30 milioni di euro, eppure l'andamento del progetto rischia di avere ripercussioni anche sull'immagine dell'azienda. La reazione rabbiosa di Dummai al suo licenziamento lascia presagire che il conflitto tra le parti andrà avanti ancora a lungo. L'imprenditoria locale, interessata più ad avvicinarsi al potere che al reale scopo alimentare del progetto, ha già raccolto i primi frutti." Ha dichiarato Lorenzo Bagnoli, giornalista free lance dell'IRPI.
"Quale che sia la posizione di ognuno in merito a questioni quali lo 'sviluppo' o la gestione della risorsa 'terra', non è accettabile che una pluralità di soggetti continui a mostrare le realtà fattuali di campo e le prove concrete d'irregolarità incessanti commesse dall'impresa, ed essa si limiti a negarle o nascondere le divisioni, contraddizioni e conflitti in atto. Sono ormai 5 anni che persiste un conflitto legato a questo progetto. Non si può andare avanti cosi," ha dichiarato Davide Cirillo, ricercatore e membro del collettivo italiano WOTS? [Walking On The South], che da tempo lavora a stretto contatto con le comunità senegalesi.
Per maggiori informazioni :
Luca Manes, Re:Common
+ 39 335 572 1837
[email protected]
Lorenzo Bagnoli, IRPI
+39 333 233 3043
[email protected]
Senegal: come si accaparra la terra - la saga Senhuile-Senethanol continua
Chi c'è dietro Senhuile Senethanol? I risultati di un'indagine su un furto di terra in Senegal