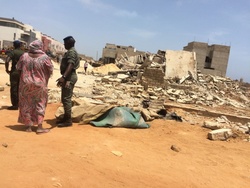 Reuters | 16 July 2015

Senegal airport row shows land right tensions in West Africa
By Makini Brice
DAKAR, July 15 (Reuters) - The piles of concrete and twisted metal in the Tobago neighbourhood beside Dakar's international airport were home to Senegalese families until bulldozers arrived last month without warning.
A line of six homes remain, given a reprieve until the end of the Muslim holy month of Ramadan. Looking at the rubble of their former homes, the head of the residents' association says he does not believe the government's explanation that the houses were a security risk.
After all, said Daouda Mbengue, the airport was due to move to a new site outside Dakar next year.
"If you say the airport will be closed in six months, why demolish homes that have been there for five years?" said Mbengue, 47, an economist by training. "We're convinced there is another reason that people cannot say."
The demolitions come amid a bitter dispute over who owns the vast airport site, pitting the government against the local Lebou tribe who laid claim to the land before France colonised the narrow Dakar peninsula that juts into the Atlantic Ocean.
Occupying more than one-fifth of Dakar - a fast-growing and chaotic city home to a quarter of Senegal's 14 million people - the land may be worth tens of millions of dollars. Its use will likely determine the future of the capital for decades to come.
The Taanka tribe, a sub-section of the Lebou, say they ceded their ancestral lands to the government only for the purpose of an airport and now they want it back. A protest led by the Collective of Taanka Youth led to clashes with military police in May and three arrests.
"Our villages are very crowded. There is not enough space," said Mame Birane Mbengue, 35, the coordinator for the Taanka Youth Collective. "We want to take these lands to build schools, hospitals and houses too to give to the three villages."
The row highlights growing tensions over land rights in West Africa as the region's economies turn to statute law to enshrine investment, often placing governments and foreign investors at odds with long-established tribal customs.
In Senegal, statute law dictates that virtually all land belongs to the state, though occupants can purchase ownership and registration documents. In practice, especially in rural areas, customary law reigns and communities dictate who uses land.
Tobago's residents paid more than 10 million CFA francs ($16,791) to the Lebou tribe per plot for the right to build on the land, and say they have received no compensation from the government after their homes were demolished.
Amid rumours that parcels of land have been sold to developers, authorities have not publicly stated what they intend to do with the airport site.
Several officials have been fired, arrested or transferred from their government positions for their roles in the demolitions.
"From my point of view, I think the biggest problem that we have in Senegal ... is the question of land," said Seydi Gassama, director of the Senegal chapter of rights group Amnesty International.
FOREIGN LAND GRABS
As it seeks to attract roughly $2 billion in private investment under its Emerging Senegal Plan, President Macky Sall's government is stepping up efforts to make land rights secure.
In 2012, after previous efforts to reform land registration failed, the government created the National Commission of Land Reform. Its recommendations have not yet been made public.
Senegal has been an island of stability in coup-prone West Africa since independence from France in 1960, but part of a long-simmering conflict in the southern Casamance region is linked to land rights.
Residents of the region, mostly from the Jola tribe, felt they were squeezed off their land by Senegalese from the north. Even today they argue they do not benefit from the spoils of their fertile land, traditionally the rice basket of the country.
Nearly 70 percent of Senegal's population works in agriculture. A 2012 report by agricultural non-profit GRAIN found that 460,000 hectares, or 12 percent of Senegal's arable land, was in the hands of foreign interests.
Land protests turned deadly in 2011 in the northern town of Fanaye when residents argued they would be displaced by a Senegalese-Italian ethanol company, Senhuile/Senethanol, requiring 20,000 hectares to grow sweet potatoes. At least two people were killed and more were injured.
Across West Africa, GRAIN said 7.9 million hectares of land, an area nearly the size of the Czech Republic or the U.S. state of South Carolina, had been leased or bought by foreign companies and organisations, much of it arable.
That has led to tensions with rural communities. In Sierra Leone, two agribusiness employees were shot in January by protesters angry about compensation for land signed over to Socfin Group, controlled by French tycoon Vincent Bollore.
And in May, protesters in Liberia invaded a palm oil plantation managed by Golden Veroleum - partly owned by Singapore's Golden Agri-Resources - taking several hostages in a dispute thought to be linked to land rights.
Malick Fall, program officer for Open Society Initiative for West Africa (OSIWA), an organization that advocates for good governance, said the arrival of large-scale agribusiness in the region could further increase the tensions of urbanisation.
With 95 percent of the agricultural sector made up of small family farms, loss of arable land will remove livelihoods, he said, stoking social pressure in capital cities like Dakar.
"This will increase the phenomenon of exodus to capital cities, precarity and vulnerability of those people." (Editing by Daniel Flynn and Peter Graff)