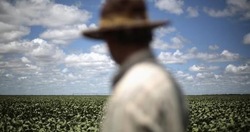 Photo: Reuters/Ueslei Marcelino
Zawya | 6 July 2015
Middle East to London: Success stories of agricultural investments
Often, profitable investments are those which meet the most important requirements of the world; food, water and fuel, to name a few. Middle Eastern investors know it very well.
Exacerbated by the pursuit for higher profits, capital preservation and food security, the oil rich region has over the years witnessed increasing demand for agricultural investments. Sidra Capital, one of Saudi Arabia's leading Islamic investment banks hit the news when they opened up the largest Islamic structured trade finance fund in the world. It specifically invests in agricultural commodities, energy and metals.
"The first tranche of the GCC (Gulf Cooperation Council) investors came with $50 million and we think there will be more and more of this to come through," said Hani Baothman, CEO of Sidra Capital , to Trade Arabia while also adding that the fund made an annual return of 9 % last year.
"It is certainly a success story for us from both financial and social perspective. Not only it offers lucrative and consistent returns to investors but it also promotes socially responsible investment." said Danial Mahfooz, Manager at Sidra Capital .
Commenting on their motivation to deal in agriculture commodities, Danial replied, "We realized that small to medium size companies fall outside of the traditional banks' balance sheet financing focus and end up underserviced. We saw an opportunity to work closely with the counterparty to deeply understand their business needs and provide tailor made funding accordingly."
SEDCO Capital, another major private Islamic wealth management organization of the Kingdom also positioned agriculture in their portfolio by recently launching a Shariah compliant Agribusiness Fund for which they have already raised $35 million and are targeting to close at $150 million. They have also in the past invested in UK-based Insight investment's Global Farmland Fund and AGF Latin America Fund and over its 20 year history have made 60 agribusiness investments globally.
One of the most active investors globally in the agriculture sector is Hassad Food, a wholly owned subsidiary of Qatar's Sovereign Wealth Fund with a mandate to run a profitable business as well as to contribute to the food security programme for Qatar.
Dr. Hamad Al Saad, advisor at Hassad Food, explains their journey, "We have invested in Australia, Pakistan, and Oman. The performance has been very good and agriculture for us has been a success story. We have invested successfully in foreign soils and we are now reaping the benefits after 7 years of startups." He believes agriculture has tremendous opportunities in the future. His rationale: "Food is important all the time."
Germany's Aquila Capital has been successful in raising capital from large sovereign wealth funds and family offices within the MENA. Realizing a return of 12% after fees, they believe agriculture investment will pay off big in the future. Andrew Sliper, Senior Vice President said, "As more managers like ourselves deliver strong track records, we believe more capital will flow. This will mean the early investors will be well rewarded. Agriculture is in a similar place to where infrastructure was 15-20 years ago."
With the hope of attracting capital from the Gulf, Turkey has begun to position itself as a major halal food producer by abolishing taxes for investors from the GCC, previously a major disincentive for GCC nationals and organizations to invest in the country. Now that the doors are open for investment, two successful MENA investment houses have decided to test the waters.
Dubai's leading growth market investor Abraaj Capital had bought 80% stake in the Yorsan Group, Turkey's fourth largest dairy producer. Bahrain's Investcorp took a 25% holding in Namet, a Turkish meat producer.
In real time, London stands as one of the glorious Capitals of the AgInvest landscape and has proved to be a lucrative destination for wide communities of international investors.
Martin Robinson, Chairman Brooks Macdonald Funds, presents his case, "We created a Fund in 2008, following interest from investors in the sector. The shares have returned 38% since the end of 2010, when we launched an institutional share class. Agriculture remains a good long term investment."
UK's First State Investments have decided to navigate in the agriculture universe, Skye Macpherson, portfolio manager, shares their motivation, "We launched an agricultural focused fund in November 2009 because we believe there are powerful long-term structural demand drivers such as a growing population and changing dietary patterns in the emerging world. At the same time we have limited resources such as land and water to increase production which means that globally we need to become more productive. This requires investment."
Commenting on their agricultural voyage, she says "For the past five and a half years since we launched the agricultural fund, we have witnessed the expansion of the agricultural sector with IPOs and capital raisings, we have seen both demand for food and production rise and interestingly also global trade has increased as many developing countries do not have the ability to increase their domestic production to meet demand. Our expectation for demand growth has materialised and has underpinned faster earnings growth of the sector."
Since inception in 2009, Global Agribusiness Fund has returned 8% pa after fees.
Agriculture, being a niche market internationally, has a huge vacuum to be filled with capital. The wealthy MENA region, with excess amounts of liquidity, can be tapped to expand investor bases. But with the prominence of Islamic finance in the Middle East, many institutional investors and high-net worth individuals will only invest in a product if it is classified as Shariah compliant and as observed recently, many of the biggest agriculture investors in the MENA region are Islamic Financial institutions who have given a thumbs up to this specialized asset class.
Here is where our role comes to play. Our vision is to create a world where food is readily available at affordable cost by assisting, building and promoting food production initiatives through Shariah compliant and cost effective options. In the past 10 years, we have assisted agribusinesses, the likes of AGInvest Properties from Canada, SCS Farmland from UK, Treedom from Hong Kong to tap the Shariah compliant markets. Our business remains a natural proxy to institutes seeking Shariah Compliant funds and transactions.
Explore the $ 1.2 Trillion worth Islamic Financial markets. Expand your investor base. Revitalize your portfolios!