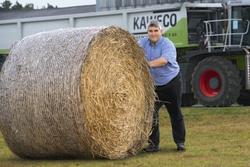 KTG Agrar owns 50,000 ha of farmland in eastern Germany, Lithuania and Romania. Above, KTG Agrar CEO Siegfried Hofreiter.
Agrimoney | 29 June 2015
KTG Agrar unveils China hopes, as Fosun takes 9% stake
KTG Agrar revealed hopes for a surge in sales to China as the farm operator joined the growing number of agriculture companies to gain investment from the country, the biggest importer of many food commodities.
Hong Kong-listed Fosun International, a conglomerate with investments in businesses ranging from holiday resort chain Club Med to upmarket circus show Cirque de Soleil, is to buy 620,000 shares in KTG, equivalent to a 9% stake, and with a face value of some E9m.
The shares have been brought in the main from the founding Ams family - whose stake has gradually dwindled since KTG's flotation in 2007, and will be reduced some 30% after the deal - with some stock purchased from institutional investors too.
Indeed, the deal, which follows nine months of talks, will leave Fosun the second-largest investor in KTG.
Big spender
For Fosun, which is backed by Chinese billionaire Guo Guangchang, the deal takes the group into agriculture amid an acquisition spree of some $8bn over the past two years, including last year the purchase of a 23% stake in German clothier Tom Tailor, and 20% of US insurer Ironshore.
Indeed, Fosun's habit of taking larger stakes than 9% in its investments has led some commentators in Germany to propose that it may increase its stake in KTG too.
That had been talk that Fosun was interested in Costa Group, the Australian fruit and vegetables group which is floating in Sydney, pricing its IPO at Aus$2.40-2.70 per share, raising some Aus$541m-637.4m.
Sector acquisitors
However, investments by Chinese investors in agriculture assets are commonplace, with state-backed Cofco alone last year buying control of Dutch-based grain trader Nidera and, through a consortium, of Singpore's Noble Agri too.
In outlining an Australia-Chinese trade deal last week, Wang Showen, Chinese vice-minister of commerce, flagged the country had "strong interest in investing in Australia… in the agricultural sector, food processing sector".
And Chinese buyers have also been linked to land acquisitions in countries from Brazil to Russia.
China, which has a far bigger share of the world population than it does of global farmland, is the top importer of agricultural commodities such as cotton, rubber and soybeans, and a major buyer of the likes of rapeseed and sugar too.
Booming market
For KTG, the Fosun deal could open the door to raising sales to China from some E1m historically to E100m-200m in about three years' time, the German group said.
"We see sales growing strongly over the next two-to-three years," a KTG spokesman told Agrimoney.com, noting that the company had set up an office in Shanghai.
"'Food made in Germany' is currently experiencing a rising demand within China's middle class population," said Siegfried Hofreiter, the KTG chief executive.
"Fosun's involvement will be long term and it will support the KTG Group to exploit China as one of the largest consumer markets by placing our high quality products there."
Wang Qunbin, the Fosun president, said that the conglomerate "support the KTG Group by not only introducing its brands to the Chinese consumers but also helping the company to expand into the Chinese marketplace".
KTG shares stood 3.7% higher at E14.845 in afternoon deals in Frankfurt, on a weak day for global shares amid the Greek crisis.
Earlier, Fosun shares tumbled by 10.7% to HK$17.48 in Hong Kong.