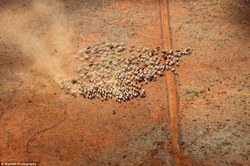 The largest private, non-monarchical, non-state landholding on earth is up for sale
Daily Mail Australia | 23 Jun 2015 |
FR
A look around the biggest property sale on earth: It is almost the same size as England and has hit the market for $325 million - but don't expect to hit it off with the neighbours... there are none
The largest private, non-monarchical, non-state landholding on earth is up for sale
The land in outback Australia makes up 11 million hectares and is more than three-quarters the size of England but only 150 live there
The properties have been in the family of Sir Sidney Kidman for five generations
Kidman was a penniless runaway who became Australia's greatest pastoralist
So vast and remote are they it will take a week flying around Australia to do the property inspection
The owners want at least $325 million for the collection of properties
By Candace Sutton for Daily Mail Australia
One of the world's largest private land holdings that includes the biggest cattle station on the planet and has been in the one Australian family for five generations is in final preparations for its sale.
The unique collection of ten vast outback properties amassed more than 100 years ago by legendary Australian pastoralist Sir Sidney Kidman will be sold to one of 30 bidders from around the world over the next few months.
The combined territory of the properties is 101,411 square kilometres, or almost 11 million hectares, equivalent to the US state of Indiana, and more than three-quarters the size of England.
The property ownings he bequeathed to his family are said to be 'the largest private, non-monarchical, non-state landholding on earth'. Just 150 people - cattle station staff - live on the land.
Kidman, a penniless teenage runaway for whose success as a beef baron led to his being knighted by King George V in 1921, was Australia's 'cattle king'.
The property ownings he bequeathed to his family are said to be 'the largest private, non-monarchical, non-state landholding on earth'.
So large, remote and spread out are the cattle stations it will take each short-listed bidder a week flying around on a plane to South Australia, Queensland, the Northern Territory and Western Australia to do the property inspection.
The properties are owned by S Kidman and Co, which was founded by Sir Sidney Kidman in 1899 and has been in the hands of family members for over 100 years.
The family, who own 98 per cent of the shares in the unlisted public company, are Australia's largest private landholders.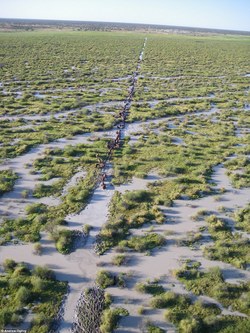 The vast outback cattle station empire including Naryilco (pictured during mustering of fat cattle) in the Channel Country of south-west Queensland, has remained in the Kidman family for five generations and is now being sold with potential buyers from China, the UK, US, Canada, South America, Switzerland and Indonesia
After inviting expressions of interest in April, S Kidman & Co has now sent out briefings to bidders from around the country and from China, the US, Canada, the UK, Switzerland, South America and Indonesia. More than half the bidders are Australian.
S Kidman & Co managing director Greg Campbell told Daily Mail Australia that the company will now narrow down the interested parties to a short list of around six final bidders.
The properties, which are all working cattle stations will be sold as one and are expected to collectively attract more than their net worth of $325 million.
With cattle prices currently high, the properties are considered 'a world class asset of international significance'. Anna Creek Station in the northern South Australian outback is the largest at 23,000 square kilometres.
Other holdings include Durham Downs, Durrie, Glengyle, Morney Plains, Naryilco and Rockybank in Queensland; Innamincka, Macumba and Tungali in South Australia; Helen Springs in the Northern Territory and Ruby Plains in Western Australia.
Despite reported rumours of bitter wrangling by family members who did not want to sell and talk of a 'carve up' of the land holdings, selling agent Ernst & Young South Australia's managing partner Don Manifold said the family who owned the 98 per cent shareholdings were now in agreement.
'There is some hysteria at the moment about foreign land ownership and I understand people's concerns, but this is a very well-managed cattle business and the Federal government and [three state and one territory] governments and the Foreign Investment Review Board will all be involved because we are talking about long term pastoral leases here,' he said.
'It is extraordinary that it has been in the one family until the fifth generation, is debt free, consistently well run, prime cattle producer.'
Sidney Kidman was born into an Adelaide family and educated at a private school before, aged thirteen in 1870, he ran away from home with five shillings in his pocket a one-eyed horse.
He found work with a drover and trained as a roustabout and bullock-driver, working in far western NSW and outback South Australia and thereafter began buying cattle stations in the Australian outback.
By 1903 Kidman owned or was a part owner of some 98,420 sq km of of country ranging from Western Australia to the Northern Territory, South Australia and Queensland.
He developed a cattle business using exclusively Sant Gertrudis in his South Australia and Channel Country properties and Brahmans and a Brahman breed, Charbrais in his northern herds.