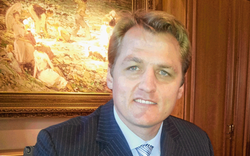 Zeder Investments CEO Norman Celliers
Business Day | 22 June 2015
World Bank's IFC in Zambia deal with Zeder
by Marc Hasenfuss
AGRI BUSINESS specialist Zeder, which is controlled by investment house PSG, has wooed the World Bank-aligned International Finance Corporation (IFC) as a strategic equity partner for its fledgling Zambian-based operations.
At the Zeder AGM on Friday CEO Norman Celliers said Agrivision — which holds farming, milling and staple foods distribution businesses — would raise $30m (R360m) in fresh capital for its new expansion phase. The IFC will invest $20m for a 19.7% stake in Agrivision with existing equity partner Norfund (a Norwegian investment vehicle specialising in developing economies) and Zeder topping up their respective investments.
Mr Celliers said the IFC's participation would drop Zeder's stake from 76% to 55.8%.
Shareholders at the annual general meeting immediately noted the inferred uplift in Zeder's official valuation of Agrivision. The IFC investment raises the value on Agrivision to nearly $100m (R1.2bn), putting a tag of $55.8m (R680m) on Zeder's stake. This compares with R589m reflected in Zeder's audited accounts at the end of February.
After the annual general meeting, Mr Celliers cautioned against reading too much into the inferred valuation, as much of the uplift stemmed from the rand's dollar weakness.
The IFC had shown huge interest in Agrivision and had asked to participate in any future expansion efforts. Agrivision — largely centred on the Chayton commercial farm — increased revenue 156% to R353m in the year to end-December. Although operating profits came in at R51m (previously a loss of R2.4m), Agrivision remained R11.7m in the red on a recurring headline basis.
Agrivision remained in a profit "J-curve" despite the strong increase in revenues, Mr Celliers said. "The company is trailing (profit) budgets because of unprecedented droughts".
Zeder also appears to be determined to push the African and global presence of its other investments. Mr Celliers said JSE-listed Quantum Foods would explore further African opportunities to extend its existing operations in Zambia (eggs and poultry) and Uganda (eggs).
Seed subsidiary Zaad intended investing in new markets in Africa, Europe and the Middle East, while fruit marketing subsidiary Capespan would look to extend its logistics operations in Mozambique and other parts of Africa.