Mongabay| 5 June 2015
by Greg Norman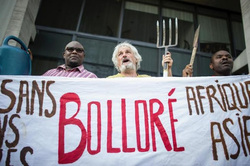 Protesters demonstrate in front of Bolloré's headquarters near Paris calling on the multinational conglomerate to return land, or compensate farmers, over disputed concessions for plantations in Cambodia and three African countries yesterday. Bollore is the largest shareholder of Socfin, which has been accused by activists of land grabs in Cambodia, Liberia, Cameroon and Ivory Coast. Photo: Kamil Zihnioglu/AP
Coordinated protests hit Socfin plantations in four countries
Such is the breadth and variety of French multinational Bolloré's holdings that some who attended its general meeting yesterday might not have been aware it invested in oil palm.
They likely are now, however, after arriving at company headquarters west of Paris to find protesters gathered calling for thousands of local people to have their land returned to them near oil palm and rubber plantations in several African and Asian countries run by Socfin, a Belgian concern with origins in the Belgian Congo. Bolloré holds a 39 percent stake in the company.
One banner read, "We do not have any land left in our own countries, we come today to sow the Cassava on your lawn Mr Bolloré." It was a reference to founder Vincent Bolloré, whose company employs 28,000 people worldwide.
Similar scenes greeted Socfin shareholders last week as they arrived for their general meeting in Luxembourg. Local NGOs held the demonstrations under the umbrella of
ReAct
, a French NGO that helps communities involved in conflicts with multinational corporations.
Since April, communities and activists in Cameroon, Cambodia, Liberia and the Ivory Coast have also staged direct protest actions against subsidiaries of Socfin, one of the world's largest independent plantation owners with 150,000 hectares of rubber and oil palm in several African and Southeast Asian countries.
The company has faced criticism over its operations in the past, particularly in Africa, where many local communities say its plantations are built on land grabs, poor employment practices, pollution of the local environment and eviction of indigenous peoples.
The recent movement began in Dibombari in western Cameroon. On April 23, hundreds of local activists blocked the entrance to the Socapalm factory and plantation. The same tactic was deployed at a plantation in Mbongo several days later. Workers were prevented from carrying out their work, forcing operations shut for several days.
"Bolloré cashes in its Socfin dividends while shirking responsibility," said Emmanuel Elong, president of an international alliance of villages surrounding Socfin-Bolloré plantations established by ReAct in 2013. "We demand an international negotiation with Socfin and Bolloré to set an agenda to return our land and receive compensation as defined by our previous agreements."
Liberia became the next theater of engagement
several weeks ago when residents of 11 villages surrounded the LAC rubber plantation near the town of Gbainfien and converged on company offices to confront management.
Socfin has expanded its operations significantly in the area since 2008, but the grievances held by residents date far further back to when the company signed agreements with communities that promised compensation for their land and a raft of development projects such as schools and infrastructure.
"You have to remember this is now nearly 11 years and the company has not implemented a single thing," said Nathaniel Monway, a spokesperson for the communities, referring to the signing of the initial pact. "There was an agreement in place, land was taken, and now there has been nothing in return."
Protesters such as Monway insist their actions are entirely peaceful. But violent land disputes are not uncommon in African countries and the actions against Socfin and Bolloré have sometimes threatened to spiral out of control.
Thousands of miles away in Cambodia last week, about 100 ethnic Bunong in Mondulkiri province
gathered outside Socfin's local offices
demanding their ancestral lands be returned. If these demands were not met within two weeks the farmers said they would burn down the company's rubber trees.
In January a Zimbabwean and Belgian employee were
shot during a protest
at a Socfin development in Sierra Leone.
This threat of violence is one reason why Socfin has thus far refused to negotiate with some of the groups. In a response to the protests in Cameroon, the company released a statement complaining its operations had been "paralyzed" by the protests, that many of the villagers were armed with machetes and that their land claims were "lies" given that Socopalm plantations were established by the government decades ago.
Bolloré claims it attempted to start a reconciliation process via a meeting with local groups in Paris in October. Monway was unable to attend that meeting due to the Liberian ebola crisis. And the protesters later complained that Vincent Bolloré distanced himself from the problem by claiming that Socfin's majority shareholder, Hugo Fabri, was responsible for the majority of decisions.
Socfin and Bolloré are so far noticeably absent from the raft of commodity suppliers and traders that have committed to ambitious no-deforestation policies. They say they monitor irregularities in their plantations themselves, but NGOs say there is no reason why they should not sign a strict policy.
Both companies are at present yielding little to demonstrators, but whether that will remain the case is unclear. Protesters hope the new tactic of coordinated international actions will soon bear fruit.
"We are hoping these actions will increase the international pressure on them," Monway said. "Eventually they will have to listen to us."