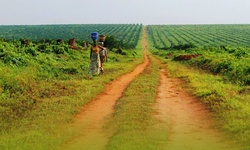 Feronia's Yaligimba palm oil plantation in DRC. (Photo: Feronia)
Guardian | 5 June 2015
UK development finance arm accused of bankrolling 'agro-colonialism' in Congo
Report claims workers of palm oil company part-owned by DFI earn a pittance, live in harsh conditions and have had their land taken illegally, though DFI says it is trying to improve pay and conditions for workers
by John Vidal
A Canadian palm oil company part-owned by the British government has been accused of land-grabbing and human rights abuses in the Democratic Republic of the Congo (DRC).
Community leaders in the vast concession area part-owned by agribusiness company Feronia say living conditions on their estates are abysmal and claim that their ancestral land along the River Congo has been taken from them illegally.
Feronia, which was owned for nearly 100 years by food giant Unilever, is now 48% owned by the CDC Group, the UK government's development finance institution (DFI), and about 30% owned by a group of other European government DFIs that have invested in the African Agriculture Fund (AAF).
But local and international human rights groups argue in a new report that the British government's use of more than £14m of public funds to back what campaigners say is a failing company that paid workers as little as $1 a day to work and live in harsh tropical conditions was inappropriate.
Government-backed investment funds have a legal mandate to support poverty alleviation in developing countries, and they must operate according to strict policies that prevent them from investing in companies that grab land, violate labour rights or engage in corrupt practices.
"Workers are living in crumbling homes, in severe disrepair. There is malnutrition in the communities near the plantations," said Jean-François Mombia Atuku, a campaigner with RIAO-RDC, a Congolese NGO that has co-written the report with European land rights organisation Grain.
CDC said it was trying to improve the pay and conditions of the 3,500 workers, but their impoverishment had been caused by decades of war, under-investment and by physical isolation.
"The company was basically broken when we took over," said CDC investment director David Easton. "Our mandate is to invest in companies working in the most difficult environments. Feronia is the only employer in the entire vast area. We inherited pay and conditions established... in the 1980s.
"We recognise that much has to be done. People want housing, schools and hospitals. We are doing a review of the community situation and the report will be published later this year. We raised pay 50% and expect to raise it again. We have so far spent £3.6m on housing hospitals and schools but we recognise it's not enough.
"There is a lot more to do in the community. We are long-term investors and want to improve the situation," he said.
When Feronia bought Unilever's 120,000 hectares [296,000 acres] of land concessions in 2009, it claimed to have inherited lease agreements for all of the lands where the company had plantations.
In the report, however, community leaders at the company's Lokutu plantations say the only document they were shown as evidence of the company's supposed rights to the 63,000 hectares concession is an old registration certificate that is riddled with errors and does not confer any legal title.
"All they have is a falsified certificate of registration, signed by an incompetent surveyor," says the provincial deputy, Gaspard Bosenge-Akoko. "Can you imagine a company grabbing over 40,000 hectares of land from these communities, depriving them of their agricultural activities, on the basis of this kind of flimsy document?"
According to the report, land was stolen from communities all along the length of the Congo River under Belgian colonial occupation (1908-1960), to establish oil palm plantations. In recent years, they say, the communities have been excluded from any decisions regarding the expansion of the concession.
"We have only suffered from the negative impacts of the plantations, such as the disappearance of caterpillars, mushrooms, wild animals, freshwater fish, and, overall, the near complete loss of the flora and fauna. This has resulted in severe malnutrition among our children and even our elders; the mortality rate for infants and mothers during childbirth is amongst the highest in the province," says the report.
"Community leaders from the areas where Feronia has its plantations have had enough of this company," says Mombia Atuku of RIAO-RDC. "They want Feronia to give them back the lands, so that they can once again benefit from the use of their forests and farms."
CDC said it was not aware of land rights grievances. "We believe the company has a valid right to be there," said Easton. He said the DRC government, which has a stake in Feronia, confirmed that the company is working legitimately. "Feronia has a valid title to the area where it operates. But we are looking carefully at the report and are keen to work with NGOs," said Easton.
In a statement, CDC added: "Without CDC's investment, Feronia would not have survived and 3,500 people would have lost their jobs, as well as the access to schools, hospitals and infrastructure that the company provides to workers and the community.
"In the first 18 months of our investment we've met our top priorities of helping the company secure its immediate future and deliver improved pay and benefits for all of its workers."