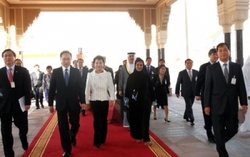 The National | 24 May 2015
Koreans offer food expertise to UAE
by Caline Malek
SEOUL // A South Korean food security office will open in Abu Dhabi next month to help the UAE in its agricultural and fishery sectors, says the country's ambassador to the UAE.
Kwon Hae-ryong said South Korea planned to work with the UAE in other areas including water security, energy and culture.
"We understand that the UAE Government has a keen interest in food security, so when our president visited the UAE last year we signed an agreement of agricultural cooperation," Mr Kwon said.
"As part of the implementation of that agreement, Korean agro-fisheries and food trade will open an Abu Dhabi office. Then we will have better terms to work on in the agricultural sector."
Officials from the Ministry of Environment and Water will meet South Korean ministry of agriculture representatives to discuss food security.
"I met the minister and head of the Emirates Authority for Standardisation and Metrology two weeks ago to talk about holding a bilateral meeting in the second half of this year," Mr Kwon said. "I think a Korean delegation will come then and I hope we will have a fruitful discussion."
Agricultural experts backed the initiative.
"South Korea has some similar issues to the countries in the region in terms of food security," said Nicholas Lodge, managing partner of the Abu Dhabi-based agriculture consultancy Clarity.
"These include heavy reliance on grain imports, with around 80 per cent of their supply coming from international producers. The country has a low amount of agricultural land per capita."
Mr Lodge said benefits could arise from cooperation with the UAE and in sharing ideas.
"It could focus on areas such as technology. For example, in low water production systems, cold-chain logistics and technology and even development of cultivars of crops suited to saline and dry climate conditions."
Although regional food security relies mainly on imported food, with temperature and water constraints making agriculture difficult, the Food and Agriculture Organisation (FAO) says the UAE Government has a multi-component strategy.
"It includes investment in agriculture overseas, producing what they can here within the water, soil and temperature constraints, and commodity trading," said David Currie, the FAO's fishery and aquaculture officer for the GCC and Yemen.
"For local food production, the latest technologies of low water use greenhouses and closed-system aquaculture and integrated agriculture and aquaculture are some of the leading opportunities, so no doubt Korea will have something to offer in these areas."
Last month, South Korea hosted the seventh World Water Forum, an event organised by the country's government and the World Water Council. It was attended by a UAE delegation.
"The water issue is a critical one in the near future and at this moment," said Mr Kwon. "When our president visited the UAE, it was decided to have further cooperation on this issue. I think we will have more cooperation on water security issues in the future and a delegation will come to deal with these issues."
A Korean cultural centre is also expected to open before the end of the year.
[email protected]