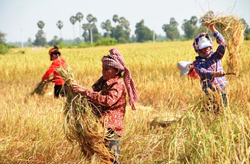 Harvesting crops in Cambodia, December 2013. (Photo: Xinhua)
Xinhua | 25 May 2015
Chinese-invested agricultural park unveiled in Cambodia
A Chinese-invested agricultural park was inaugurated in Tbong Khmum on Sunday, aiming at broadening agricultural cooperation between the eastern Chinese city of Zhangzhou and Cambodia, officials said.
Zhangzhou Municipal Chinese People's Political Consultative Conference (CPPCC) chairman Tan Peigen and Ros Sakhon, governor of O'raing Ouv district in northeast Cambodia's Tbong Khmum province, presided over the inauguration ceremony. "The ceremony clearly shows good cooperation in agriculture between Zhangzhou city and Cambodia," said Tan Peigen, who added that through cooperation, investors from Zhangzhou would bring modern agricultural technology to help develop Cambodian agriculture.
Tan said it was the first agricultural park that Zhangzhou has invested in overseas.
Ros Sakhon welcomed the investment in O'raing Ouv district, saying that Chinese investment was very important to develop the district. "This project will enhance agricultural production techniques, boost economy and reduce poverty in O'raing Ouv district,"he said.
Liu Leili, president of Fujian Chamber of Commerce in Cambodia, which managed the agricultural park, said the project covers an area of 3,000 hectares and 11 Chinese companies have registered to invest in it. "We hope that there will be more Chinese companies investing in the park in the near future," he said.