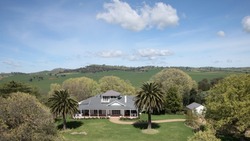 Black River is sitting pretty with its investment in BFB's Billabong Station.
Australian Financial Review | 25 May 2015
Cargill's Black River enjoys more Australian farmland profits
by Matthew Cranston
A hedge fund run by an arm of the world's largest agricultural company, Cargill, has enjoyed another strong profit from its Australian farming investment – the land and logistics company BFB Group.
The fund, Black River Asset Management, reaped the rewards of another good season, with BFB delivering a $3.3 million profit and a $4.2 million upward revaluation of property holdings for the year ending December 2014.
The $220 million BFB made headlines after snapping up the prized Billabong Station in the Eurongilly Valley, east of Wagga Wagga, NSW for about $10 million in 2012. The 1875-hectare grazing and dry land cropping property was formerly owned by David Baffsky – the chairman of Investa Wholesale Funds Management.
Accounts just released by the Australian Securities and Investments Commission show BFB now has $34 million in retained earnings and reserved asset revaluations on top of $64.57 million in share capital – the majority for which is owned by Black River. Such figures give some indication as to the very strong returns Black River has made since its investment in BFB.
Questions over local investors
For a major foreign institutional investor such as the Minneapolis-based Black River to be making strong gains year after year from Australian agriculture calls into question the lack of investment by Australian institutional investors in Australian agriculture.
BFB's result $3.3 million profit, although strong, has slipped from last year's $7.2 million profit. Labour expenses jumped by almost $1 million and farming expenses were up $1.15 million to $14 million.
The company also spent $16.5 million on property plant and equipment. The current value of its land and buildings now sits at $150.8 million.
BFB is not Black River's only Australian agricultural investment. In 2013 Black River purchased one of the largest farms within the sugar cane supply area of Mackay in north Queensland, for $10.5 million.
The property, Marwood Farm, was purchased in a joint venture with Mackay Sugar called Racecourse Projects. The farm has fully irrigated contiguous cane land, supplied by a 2100-megalitre licensed water supply.